EDITORIAL - Digital vote fraud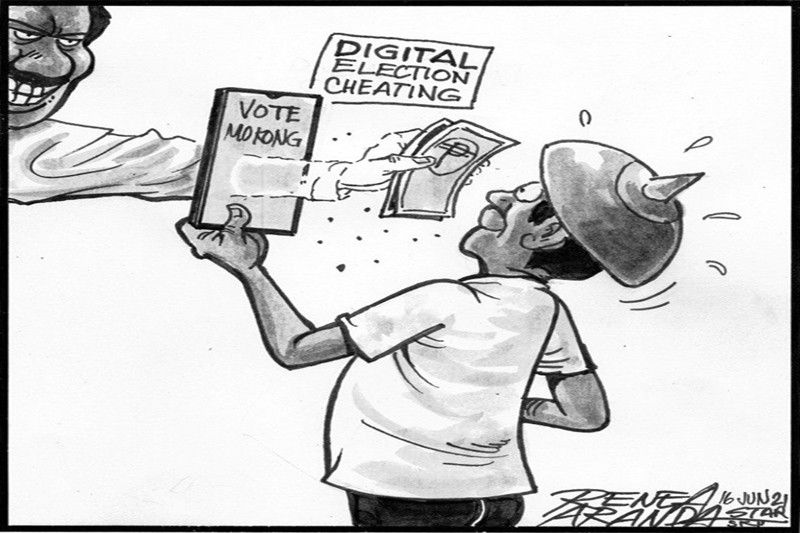 Even with the country still battling the COVID-19 pandemic, national attention is now being diverted to politics. With the 2022 general elections just a year away, plans are being drawn up for the fast approaching campaign. The Commission on Elections is trying to get more new voters to register and readying the voting machines.
The Philippine National Police, which is tasked to keep the campaign and voting safe, has another concern: digital forms of election fraud, notably vote buying. The COVID pandemic has made cashless transactions more widespread. In previous elections, usually upon the complaint of offended parties, the PNP could pounce on persons who distribute cash or other items to buy votes. Cash was preferred because it left no paper trail.
This time, however, the PNP and poll fraud watchdogs will need cyber security experts to track electronic fund transfers meant to influence votes. With incentives given to Filipinos of all income brackets to open bank accounts, such fund transfers would be easy to make, especially with the country's stringent bank secrecy laws that Congress refuses to ease.
Even with the pandemic still raging, groups working for a clean vote can start tapping cyber security experts to prevent digital tampering with the 2022 election results. The country has a long history of election fraud, with beneficiaries of the cheating often getting to serve nearly the entire term of the contested office.
Dagdag-bawas or vote padding and shaving robbed certain candidates including a senator of their mandate when voting was still manual. While vote automation is supposed to have eliminated this form of cheating, some sectors also say that with sufficient expertise, it can also facilitate tampering with poll results.
PNP chief Gen. Guillermo Eleazar, who sounded the alarm on electronic vote buying, is urging the public to be vigilant and assist authorities in stopping digital forms of election fraud. Authorities must work with poll watchdogs and other concerned sectors to prevent digital cheating from undermining the 2022 vote.