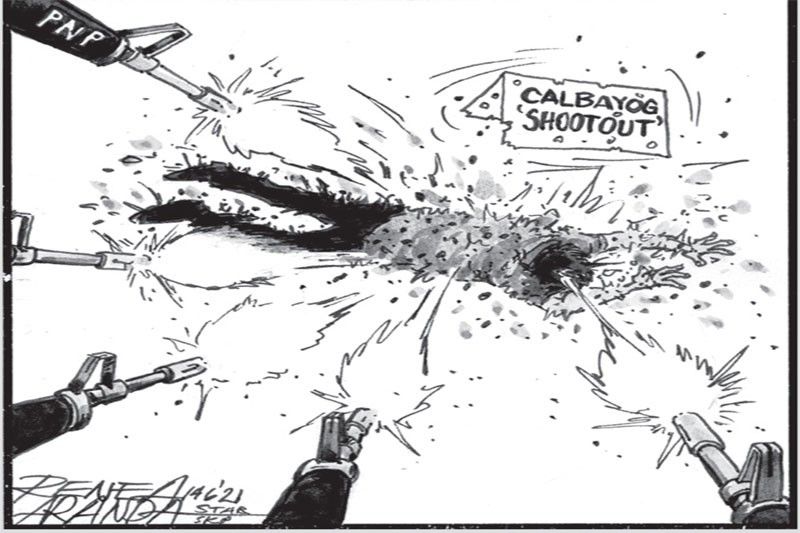 EDITORIAL - Set up for murder
(The Philippine Star) - June 14, 2021 - 12:00am
There have been numerous reports of police planting evidence in drug cases. Sometimes this was used to nail down elusive drug traffickers. In several instances, it was used for extortion.
In the case of Calbayog City mayor Ronaldo Aquino, the trumped up accusations led to his murder. As COVID cases were beginning to surge in the country last March, members of the Samar Provincial Drug Enforcement Unit killed the mayor, his driver and a police bodyguard in what police initially described as a shootout. Two PDEU members were also killed along with a civilian who got caught in the crossfire.
A witness has since surfaced to claim not only that it was an ambush, but also that Aquino was being framed for drug trafficking and had been set up for the murder. Last week the National Bureau of Investigation filed charges of murder and frustrated murder against seven members of the Samar police force and two civilians. The NBI based the charges on video footage of the ambush on March 8, cell phone messages as well as the testimonies of 53 witnesses.
The NBI probe indicated that Aquino had been under surveillance and was being set up for the murder since October last year. While suspects have been indicted, however, the NBI has yet to pinpoint the mastermind and establish the motive.
Aquino, a Liberal Party stalwart, is the second mayor of Calbayog to be murdered, after Reynaldo Uy in 2011. At least four of Aquino's supporters were also killed in an ambush during the midterm elections in 2019. From 2013 to 2018, Aquino's son Ronald Mark counts 141 of the mayor's supporters being murdered, mostly as elections approach.
Calbayog has been called "killbayog" because of the violence, which is sadly not unique to the city. As the May 2022 general elections approach, political violence is expected to escalate nationwide. If the charges in Aquino's murder prove accurate, his case affirms one sorry aspect of political violence in this country: the involvement of the police, and the lengths to which they will go to please their puppet masters.