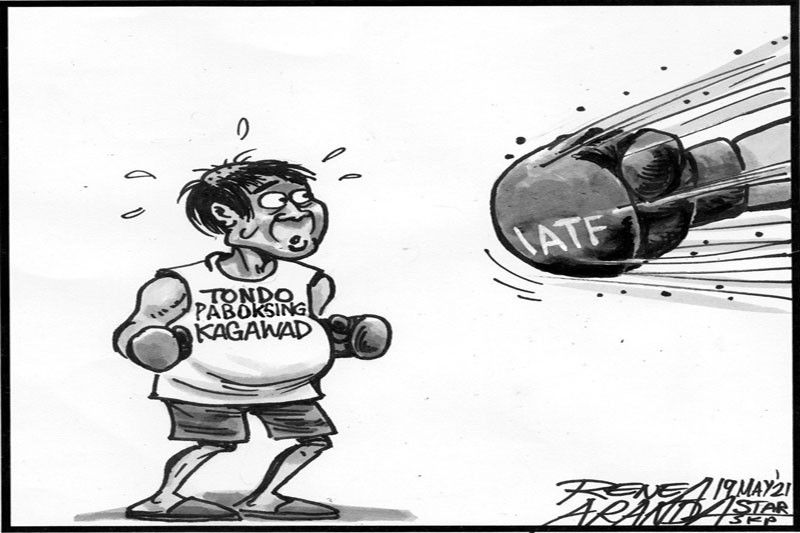 EDITORIAL - Leaders in breaking the rules
(The Philippine Star) - May 19, 2021 - 12:00am
This is why COVID continues to spread particularly in crowded Metro Manila. With a variant-fueled virus surge still sickening thousands and claiming lives daily, a street boxing match was staged in Tondo, Manila, with a large crowd shown on video gathering to watch and place bets. Most of those in the crowd were not wearing face masks or shields and were oblivious of physical distancing.
Barangay personnel are supposed to be at the forefront of efforts to prevent such super spreader events and enforce health regulations particularly physical distancing and mask wearing. It turned out, however, that the boxing match was allegedly organized by a councilor of Barangay 182 himself, Arnel Saenz and his son Vincent. The two have been charged by police together with alleged bet collector Lawrence Bindoy, husband of the barangay secretary, for illegal gambling, game fixing, and violations of guidelines set by the Inter-Agency Task Force for the Management of Emerging Infectious Diseases.
The boxers are reportedly aged 16 and 18, so additional charges could be filed against those behind the boxing match. The incident again highlights the failure of COVID containment when those tasked to enforce the protocols themselves are the weakest link in the campaign.
In Caloocan, a barangay captain has been suspended and faces criminal and administrative charges for failure to stop hundreds of people from swimming at the Gubat sa Ciudad resort in celebration of Mother's Day on May 8. Four of the guests have since tested positive for COVID, with results for scores of others still awaited.
Several other resort guests have reportedly refused to answer phone calls from contact tracers, leaving health authorities to plead with them to self-isolate and monitor themselves for COVID symptoms. Considering the virulence of the variants fueling the COVID surge in the past months, the guests should realize that the admonitions are for their own good.
What should be done with barangay personnel who allow their narrow self-interests to prevail in this deadly pandemic? The skirting of health safety protocols continues despite several warnings from the national government that barangay and local government officials will be held accountable for such breaches. To discourage such violations, the national government should show what its warning means.