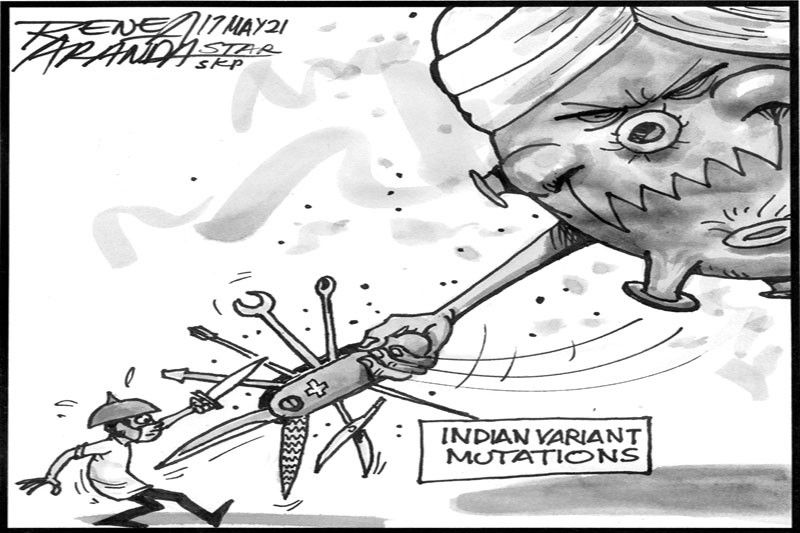 EDITORIAL - Unending cycle
(The Philippine Star) - May 17, 2021 - 12:00am
This is why infectious coronavirus variants are aggravating the COVID pandemic and the country is trapped in a vicious cycle of infection spikes and lockdowns.
Border control is tightened only when it becomes clear that the deadly pathogens have already entered. This was the case from Day One, when a shipload of tourists from Wuhan, China, from which the virus sprung, was allowed to dock in Manila in January 2020, giving the Philippines its first two COVID cases – and first death. The government said it did not want to impose a ban on travelers from China because it would offend Beijing.
Over 15 months later, with 1.14 million Filipinos infected and nearly 20,000 dead, and the economy still stuck in its deepest post-war recession, the government is again grappling with more infectious COVID variants from all over the planet.
Last Friday night the cargo ship Athens Bridge left the country for Vietnam. The ship, which had made two port stops in COVID-ravaged India before heading to Southeast Asia, had been turned away from Vietnam after several of its crew, including 12 Filipinos, tested positive for the coronavirus. The ship then proceeded to the Philippines, where two critical Filipino patients were brought to a hospital for treatment and were subsequently confirmed to have the Indian variant.
The two were properly isolated while being transported from their ship to the hospital and then back – or at least this is what health authorities have assured the public. The 10 other crewmembers, who also got the Indian variant, did not leave the ship.
Of greater concern are the first confirmed cases of the Indian variant: two overseas Filipino workers, one of whom arrived from Oman on April 10 and the other from the United Arab Emirates on April 19. The OFW from Oman tested positive on April 15; the one from the UAE on April 24. Both had no history of travel to India, and both were immediately quarantined upon arrival. But genome sequencing showed them to be infected with the triple mutant Indian variant. This was confirmed and announced only weeks later, on May 11.
The two have recovered and are in their home provinces in Bicol and Soccsksargen. But with the confirmation of the variant, the government is now trying to trace six close contacts of the OFW on the flight from Oman and 35 contacts of the one from the UAE.
If any of the 41 had caught the variant, they would have spread it by now. And this is why we have this surge, and unending cycle of crippling lockdowns.