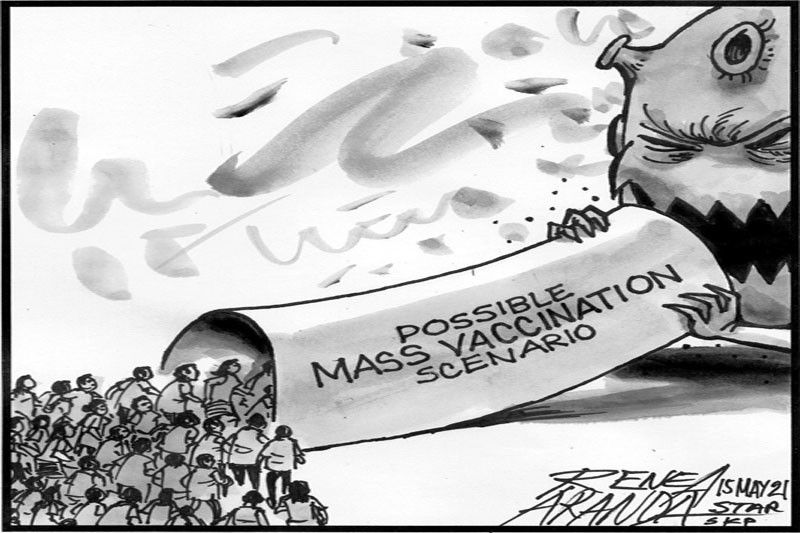 EDITORIAL - Infection during vaccination
(The Philippine Star) - May 15, 2021 - 12:00am
Local government executives in the National Capital Region have reported increased interest in getting COVID shots following the arrival of the vaccine developed by US company Pfizer and its German partner BioNTech. But even before the acutely limited supply of Pfizer jabs arrived, there were already long waiting lines for vaccination particularly in the NCR and the neighboring provinces of Bulacan, Cavite, Laguna and Rizal.
More transmissible and deadlier coronavirus variants have fueled a surge in infections and deaths in the NCR Plus. And there will be more, even as the expanded region is eased into general community quarantine with "heightened restrictions" beginning today. Some of those infections and deaths, tragically, could be due to crowding in vaccination centers.
Whether it's a mega vaccination center or a small operation in a private subdivision, it cannot be emphasized enough that people can still catch COVID if health safety protocols are not strictly enforced. One can be infected while waiting in line to get the vaccine, and even after getting the shot, especially the first dose. Without full immunity, infection can still lead to hospitalization and death.
Those scenes of people waiting in close proximity to each other – especially the most vulnerable elderly and those with comorbidities – should raise alarm bells. People have posted complaints about having to wait up to five hours in long, snaking lines to get their jabs. Some of those in line could have COVID but are still unaware of it because they are asymptomatic. Epidemiologists warn that exposure to a COVID-positive person for more than 15 minutes can lead to infection.
How complicated can it be to give each person a specific schedule for vaccination? It won't take rocket science to estimate the average time needed by each individual to get a jab, from arrival at the site to getting the shot and then waiting about half an hour for adverse reactions that might need medical attention.
The Philippine Red Cross assigns specific times, calculated to the minute, for people to get saliva or swab RT PCR tests, which are booked online. Why can't a similar orderly system be used for vaccination?
There is a raging debate regarding mega vaccination facilities, which critics say could mean larger crowds, longer waits and greater risk of exposure to infected people. Whether it's a massive center or a neighborhood operation with a more manageable crowd, the overriding concern must be to keep everyone safe from infection. Over a year into the pandemic, the worst thing that can happen is to catch COVID in a vaccination site, and succumb to the disease.