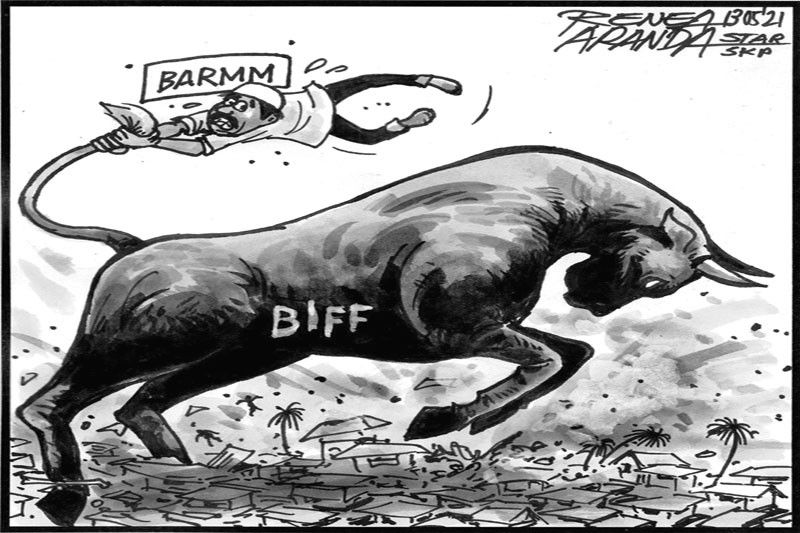 EDITORIAL - R&R for terrorists
(The Philippine Star) - May 13, 2021 - 12:00am
The Bangsamoro Islamic Freedom Fighters has been tagged in numerous attacks against both government and civilian targets, including participation in the slaughter of 44 members of the police Special Action Force in Mamasapano, Maguindanao in January 2015. In December last year, BIFF bandits had tried taking control of Datu Piang town in Maguindanao. Last March, a bomb attack by the group in Datu Saudi Ampatuan town left two persons dead and two others wounded.
And yet when five truckloads of over 100 BIFF gunmen arrived last Friday in the banana farming town of Datu Paglas also in Maguindanao, news reports said the bandits were practically welcomed with open arms by the local government ostensibly because it was Ramadan. A BIFF spokesman even said they were merely in town to rest.
Resting for the group meant taking over the public market for about six hours as government forces arrived to drive them out of town. The gunmen, according to reports, were mostly young men up to age 25, with some believed to be only 15.
How can the state allow a group illegally bearing arms to "rest" at the expense of a terrorized populace? Turning Datu Paglas into a place for BIFF rest and recreation allows the bandits to replenish supplies and recharge their batteries, boosting their strength and capabilities to further sow terror.
Last Tuesday, President Duterte flew to Datu Odin Sinsuat in Maguindanao where he met with officials of the military and local police as well as the Bangsamoro Autonomous Region in Muslim Mindanao. He appealed to BARMM local leaders to refuse sanctuary to terrorist armed groups, or else he might be compelled to order a military offensive that will undoubtedly cause more misery in an already impoverished region. "It will be bloody and it will be sad," the President warned of the consequences of a military offensive.
The BIFF is seen as one of the biggest threats to the fragile peace in the BARMM. Dealing with the threat calls for a concerted effort, starting with communities backed by barangay units and the local government. This won't happen if local officials themselves roll out the red carpet for the bandits.