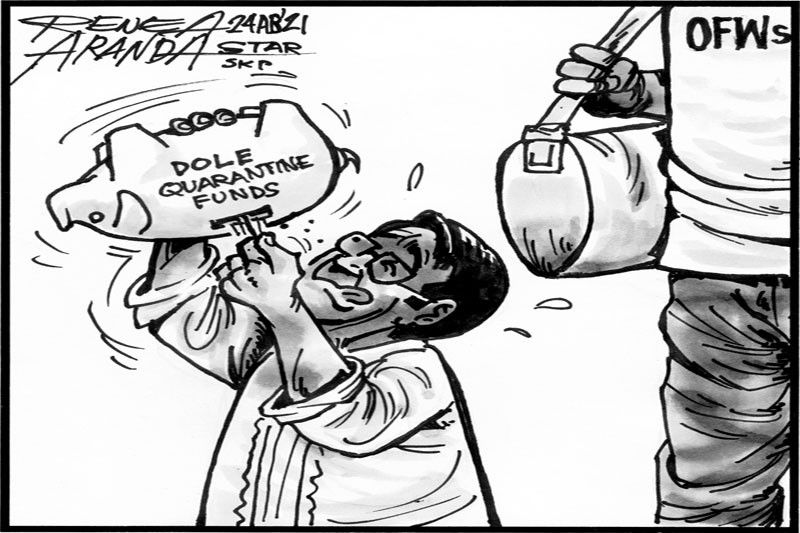 EDITORIAL - No compromise
(The Philippine Star) - April 24, 2021 - 12:00am
There can be no compromise, President Duterte said as he rejected a proposal to ease quarantine protocols for overseas Filipino workers returning from abroad. The suggestion was made by the Department of Labor and Employment as its funds for the mandatory 14-day hotel quarantine of returning OFWs are rapidly depleted.
Considering the continuing uncontrollable COVID surge that is overwhelming hospitals, the President made the right decision. The surge has been attributed in large part to the rapid spread of highly infectious and deadlier coronavirus variants, which were first brought to the country by Filipinos returning from abroad.
Infectious disease experts have maintained the 14-day quarantine for all people entering the country, but changed the testing period to the fifth day from arrival, when variant symptoms begin to emerge.
The Department of Labor and Employment says funds for the hotel quarantine of the returning OFWs, at an average of P3,000 per day, were fast running out. DOLE officials asked for a shorter quarantine of nine or 10 days for those who test negative and remain asymptomatic.
Health professionals, however, warned that this is a bad idea especially with COVID cases averaging 9,538 daily over the past week and many hospitals running out of beds for critical care. Those high numbers also mean greater expenses for public health care. Whatever savings can be made by shortening the quarantine period would likely translate into far bigger expenses for the government health insurer if people released early from quarantine belatedly turn out to be COVID-positive and infect entire communities.
At this point, the Philippine Health Insurance Corp. is already looking overwhelmed. PhilHealth's failure to settle payments on time to private hospitals and the Philippine Red Cross is aggravating problems arising from the ongoing surge.
As of Wednesday when the President thumbed down the DOLE proposal, there were 6,500 returning OFWs quarantined in hotels. The government will have to beef up resources for the quarantine of OFWs. In this intractable surge, which has crippled economic recovery especially in Metro Manila, the government cannot afford to take more risks. Quarantine protocols must be maintained, but OWWA must be given the resources to do its job.