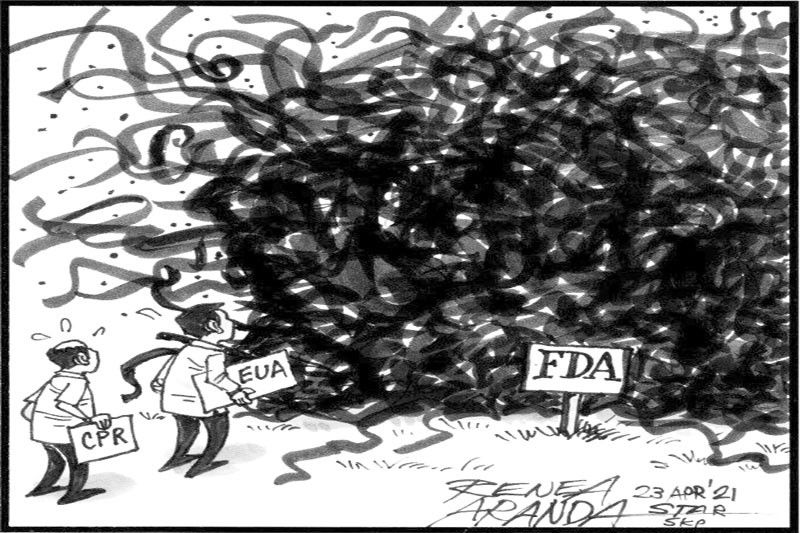 EDITORIAL - Regulatory limbo
(The Philippine Star) - April 23, 2021 - 12:00am
Alongside his campaign against prohibited drugs, President Duterte has always emphasized that he wants bureaucratic red tape cut. He has even specified the period for processing transactions with the government, ranging from three working days for the most basic, up to several weeks.
So he might be interested to know, from his ally at the helm of the House of Representatives, that red tape could be derailing the country's response to its worst public health crisis. Speaker Lord Allan Velasco has decried the bureaucratic hurdles encountered by local pharmaceutical companies in obtaining certificates of product registration and emergency use authorization from the Food and Drug Administration.
The timely release of CPR and EUA is critical in improving the response to the COVID-19 pandemic, Velasco stressed over the weekend. "There are countless reports of local drug manufacturers whose products have been stuck in regulatory limbo for years," Velasco lamented.
Deputy Speaker Bernadette Herrera-Dy said that based on the FDA checklist, it can take up to eight months for a local company to obtain product certification. But industry players say it could take even longer, and some local firms have been forced to shut down, unable to wait for regulatory approval for their product, she said.
She and Velasco have filed a House resolution, seeking an inquiry into the policies and guidelines of the FDA and Department of Health on the registration, utilization, manufacture, distribution and sale of pharmaceutical products to fight COVID-19.
The two lawmakers have stressed that it is possible to strike a balance between the need for a thorough study of medicines for use in the country and making compliance easier for local pharmaceutical companies.
Herrera-Dy is pushing for the approval of the anti-parasitic drug Ivermectin for COVID patients. Proponents of the drug, which is significantly affordable, have expressed suspicion that Ivermectin use is being suppressed by those behind the local distribution of anti-COVID drug Remdesivir, which costs nearly P50,000 per treatment course in the city-run hospitals of Manila, and higher in private hospitals.
Opponents stress that the World Health Organization has endorsed the use of Ivermectin against COVID only within clinical trial settings. But the FDA has allowed its compassionate use upon request of certain hospitals.
FDA regulations will have to be streamlined especially if the government is serious about the country producing its own COVID vaccine. Vietnam and Thailand are already way ahead of the Philippines in this endeavor, ensuring their speedier recovery from the pandemic. The Philippines can't have its own nascent effort stuck in regulatory limbo.