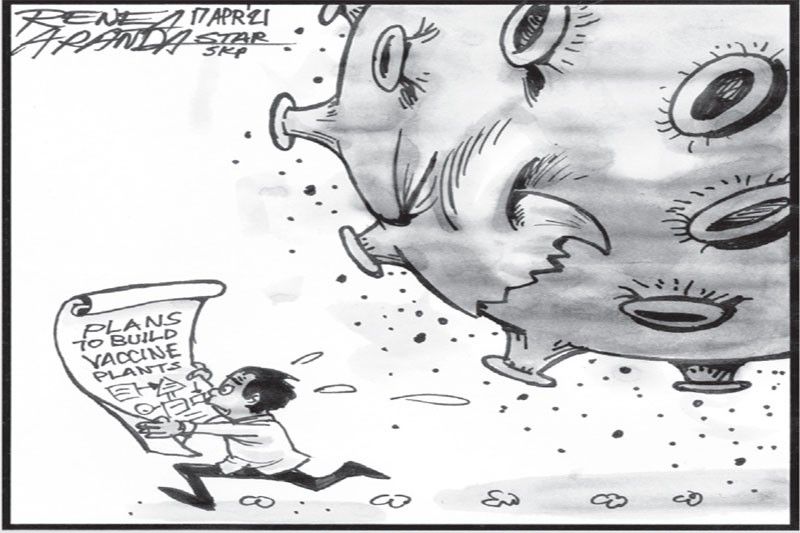 EDITORIAL - Investing in future generations
(The Philippine Star) - April 17, 2021 - 12:00am
After dropping the ball on 10 million Pfizer COVID vaccines that should have been here last January, facilitated as early as July 2020 by the US State Department, the Philippine government is now scrounging for jabs even as the coronavirus, more infectious and deadlier, rages across the country. As President Duterte himself has lamented, more people will get sick, and more people will die.
At least there seems to be better progress in the long-term response to this crisis, which is to make the country less dependent on others for its vaccine needs. The Department of Science and Technology has reported that six companies operating in the country have expressed their intention to manufacture vaccines locally for a wide range of afflictions including COVID-19.
At the same time, the move to create a Virology Science and Technology Institute of the Philippines is gaining traction. This will need legislation, and President Duterte has promised support for the measure.
The President, seeing local vaccine manufacturing as an "investment for future generations," this week ordered red tape cut and every effort made to ensure the speedy processing of any enterprise engaged in the production of vaccines. The government should also provide incentives for such investments.
Vietnam, which has had one of the best responses to the pandemic, as well as Thailand are already way ahead of the Philippines in this initiative. Their locally developed COVID vaccines are currently undergoing clinical trials, with rollouts targeted next year. Post-pandemic recovery of the two countries is certain to be much faster. The effort to have COVID vaccines made in the Philippines should be put on emergency mode.