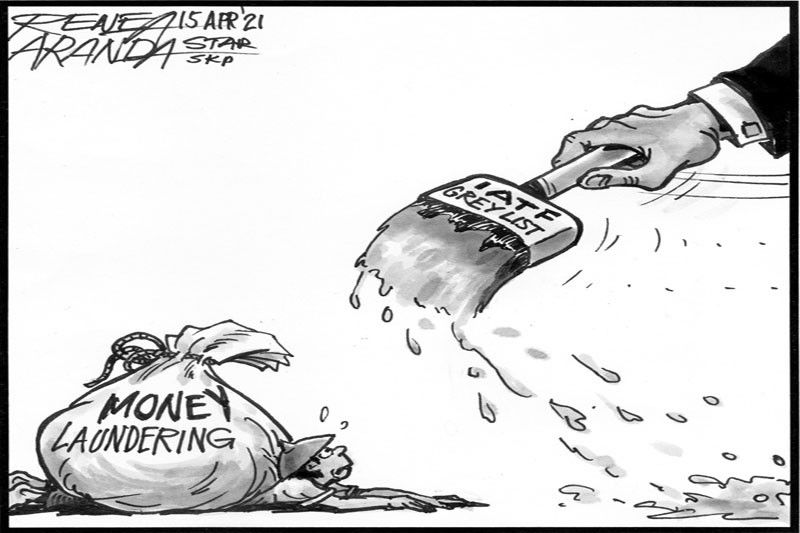 EDITORIAL - Headed for the gray list
(The Philippine Star) - April 15, 2021 - 12:00am
With the second highest COVID cases in Southeast Asia after Indonesia, the longest lockdown and the deepest economic contraction in the Western Pacific, all analysts are predicting the slowest pandemic recovery in the region for the Philippines.
And recovery prospects could still worsen, if financial transactions become harder in the country. This can be possible if the Philippines ends up in the gray list of the FATF, the Paris-based dirty money watchdog Financial Action Task Force.
Without needed legislative and regulatory reforms by this June, the Philippines faces the prospect of being reverted to the FATF list of jurisdictions with serious deficiencies in anti-money laundering / counter financing of terrorism.
The warning was issued by the International Monetary Fund, which stressed that inclusion in the list would have adverse impact on trade and remittances. Overseas Filipino workers account for the billions remitted annually – funds that have always been a boon for the country even during the COVID pandemic.
The deficiencies give an indication of the vested interests that are in the way of reforms. The IMF stressed the need to ease bank secrecy laws, to make them compliant with international standards of transparency and facilitate efforts to fight money laundering, domestic and global tax evasion as well as other financial crimes.
The Secrecy of Bank Deposits Law or Republic Act 1405, passed way back in 1955, allows deposit accounts to be opened only with a court order or the written consent of the depositor. RA 1405 has been emasculating for the Securities and Exchange Commission in its probes on misconduct. The law has also slowed down payouts by the Philippine Deposit Insurance Corp.
Yet lawmakers have consistently resisted efforts of the Bangko Sentral ng Pilipinas, Department of Finance and other agencies to amend RA 1405. Lawmakers have also resisted the inclusion of tax crimes among the predicate offenses covered by the Anti-Money Laundering Act. Going after tax payments could in fact help the government nail down slippery drug traffickers, jueteng lords, smugglers and corrupt government officials.
Another reform pushed by the IMF is ending the conflict of interest engendered by the arrangement that makes the Philippine Amusement and Gaming Corp. both the operator and money laundering regulator of casinos.
The country has only a few weeks to pass the necessary reforms. With the economy already in the intensive care unit, it cannot afford the cost of FATF sanctions.