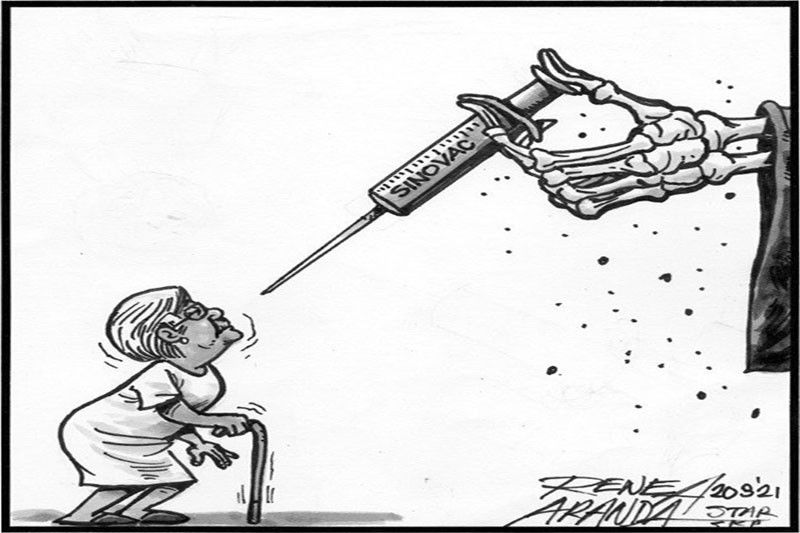 EDITORIAL - Sidestepping the rules
(The Philippine Star) - March 20, 2021 - 12:00am
The country has a regulator for the procurement, distribution, administration and sale of vaccines. So if the Food and Drug Administration says the CoronaVac jabs developed by private Chinese company Sinovac Biotech can be used only on persons aged 18 to 59, the government must bow to the regulator.
The FDA issued the statement after vaccine czar Carlito Galvez Jr. said up to nine million senior citizens – those aged 60 and older – would get CoronaVax beginning next month. FDA officials say Sinovac will have to submit data showing that its vaccine can be safely administered to those outside the age group specified in the emergency use authorization for CoronaVax. The EUA does not cover senior citizens.
Galvez's statement indicates that the country is buying the nine million doses of the vaccine that the Duterte administration appears to have favored from the start. This perceived preference for China-made vaccines has been blamed by some quarters for the failure to secure 10 million doses of the Pfizer jab for delivery last January, as worked out as early as July 2020 by the Department of Foreign Affairs with the US State Department. Russia's Gamaleya Research Center also waited a long time for the EUA for its Sputnik V jab, whose high efficacy against COVID has been peer-reviewed.
Two months ago the Philippine Chamber of Commerce and Industry also sought clearance from the government for the tax-free importation of Covaxin, the jab developed by India's Bharat Biotech, for use by economic frontliners in micro, small and medium enterprises. The PCCI is still waiting for action on its request.
The country has secured billions of pesos in loans for the procurement of vaccines, but the jabs are arriving in trickles even as COVID cases surge in Metro Manila and more infectious variants of the coronavirus spread. There is greater pressure on the government to begin mass vaccination. This, however, cannot be rushed by sidestepping vaccine safety rules and regulatory procedures, or to favor certain vaccine makers.