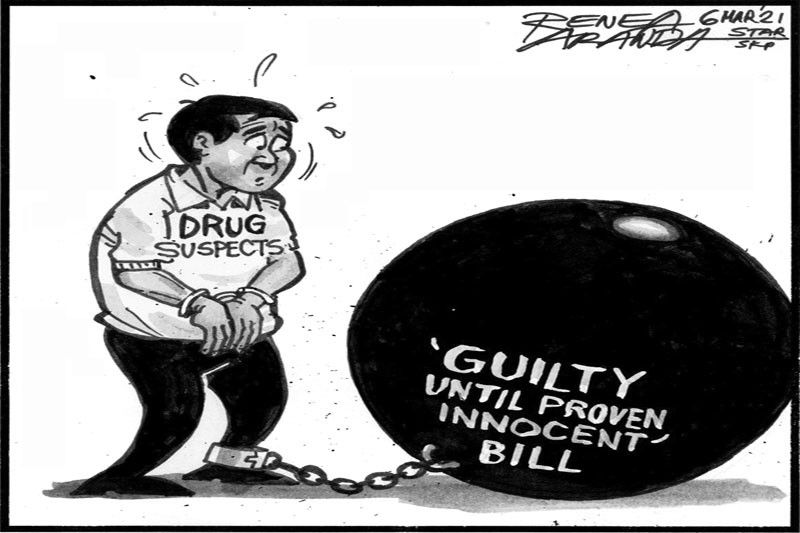 EDITORIAL - Presumption of guilt
(The Philippine Star) - March 6, 2021 - 12:00am
The country already has tough laws against drug offenses. Now the House of Representatives has passed amendments that aim to give even more teeth to Republic Act 9165, the Comprehensive Dangerous Drugs Act of 2002.
House Bill 7814, passed overwhelmingly by the chamber on March 2, is raising alarm in the light of the way the war on drugs has been carried out. Legal quarters have pointed out that some of the provisions in HB 7814 overturn the presumption of innocence guaranteed under the Constitution.
The amendments effectively broaden the coverage of persons who can be classified as drug suspects, and they must prove their innocence instead of the accuser bearing the burden of proving guilt.
Tightening the noose on those who abet drug trafficking is reasonable enough, although there are already penal provisions against aiding and abetting persons in the commission of crimes. Stronger weapons may also be useful against those who use their "influence, power or position" – as described in the bill – to protect drug trafficking. The provision, however, may need to be reworded to allay concerns about overturning the presumption of innocence.
Equally troubling is the provision that "unless proven otherwise," a person found in the immediate vicinity of a venue for the sale, delivery or distribution of prohibited drugs "is presumed to have been involved" in the illegal activity. Under this provision, would the staff of the fast-food outlet, where anti-narcotics cops and members of the Philippine Drug Enforcement Agency shot it out during a drug sting, be liable for drug offenses? "Negligent" owners or lessors of properties where clandestine drug laboratories have been set up will also be liable.
Broadening the coverage of the persons who can be held criminally liable broadens the number of people who can be considered as drug suspects. The problem in this country is that thousands have been killed on mere suspicion of involvement in the drug trade, allegedly for resisting arrest or nanlaban.
While no one will argue with the need to fight the drug menace or with the complexity of waging this war, the amendments widen the avenues for law enforcement mistakes and abuses. Recently, the secretary of justice himself admitted before the United Nations Human Rights Council that lapses have been committed in the conduct of the brutal war against illegal drugs in the Philippines. HB 7814 broadens the opportunities for even more lapses.