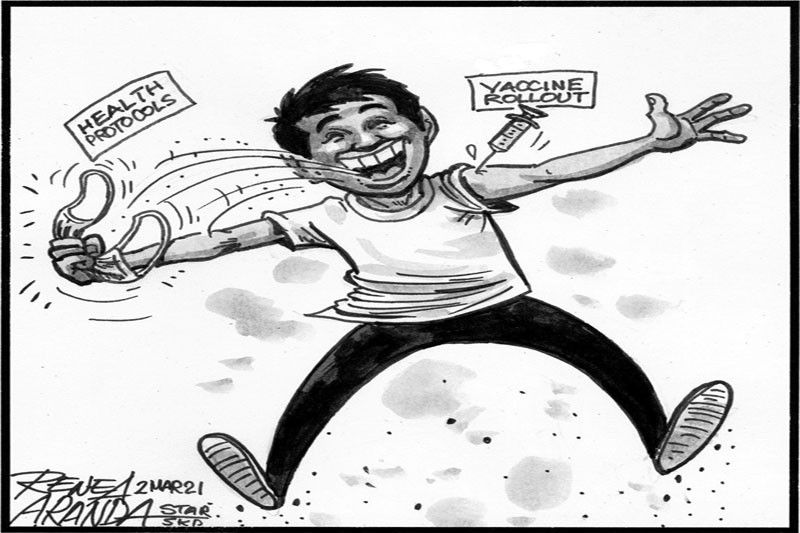 EDITORIAL - At last, vaccination
(The Philippine Star) - March 2, 2021 - 12:00am
Nearly a year after large areas of the country were placed under lockdown to contain COVID-19, vaccination with authorized jabs finally got underway yesterday. There was excitement among officials in charge of the program as well as the recipients. But there was also strong hesitancy among those at the top of the priority list for vaccination: the health frontliners.
Health care workers at the sites of greatest infection risk – the COVID referral hospitals – remain wary of CoronaVac, the vaccine developed by private Chinese firm Sinovac Biotechnology. While the heads of the referral hospitals volunteered to get their shots to help overcome resistance to CoronaVac, only 150 out of 1,400 HCWs at the Lung Center of the Philippines opted to get their jabs yesterday.
Hesitancy could dissipate in the coming days. With the inoculation finally underway, authorities are now on alert for fake vaccines and moving to ensure accurate documentation of those who have received their first dose. Military and police personnel have shown greater willingness to receive the Sinovac jab, so the 600,000 doses donated by Beijing will surely not go to waste. Continued adherence to health safety protocols must be sustained; mass vaccination for herd immunity is still a long way off.
Vaccine hesitancy, however, remains a serious hurdle. HCWs are still waiting for the vaccines from the COVAX Facility of the World Health Organization – initially Pfizer and Oxford / AstraZeneca – whose efficacy has been verified by global stringent regulatory authorities. As HCW organizations have pointed out, they deserve the best – the most reliable and efficacious – vaccines to allow them to serve the public efficiently. The government must exert more effort to procure the COVAX shots.
Cambodia, for example, is set to receive tonight an initial 324,000 doses of the Oxford / AstraZeneca vaccine under the COVAX Facility, according to a joint press statement by the WHO, the United Nations Children's Fund and that country's health ministry. Cambodia rolled out its COVID vaccination campaign in early February. Laos began its inoculation in the first week of January.
In Southeast Asia, the Philippines has had the longest lockdown but has registered the second highest COVID infection rate after Indonesia and has suffered the deepest economic recession. Yet the country has become the second to the last, ahead only of Vietnam, to begin its COVID vaccination campaign. Clearly, the COVID procurement can use more effort.