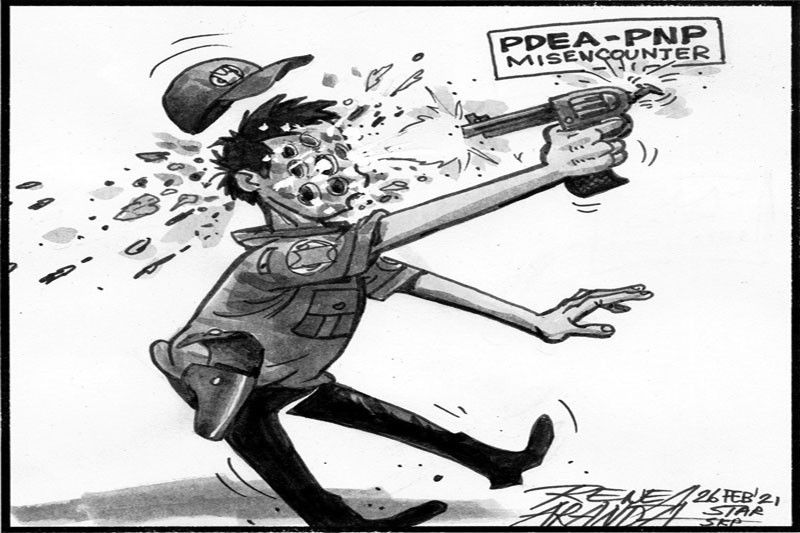 EDITORIAL - Gunfight at the Metro corral
(The Philippine Star) - February 26, 2021 - 12:00am
With a pandemic raging and Metro Manila and several other areas still under general community quarantine, certain elements of law enforcement have busied themselves with other matters.
Late on Wednesday afternoon, a long exchange of gunfire shattered the quarantine calm at the parking lot of a fast-food restaurant along Commonwealth Avenue in Quezon City. When the smoke cleared, two members of the QC Police Department were dead, together with two of their targets.
One of the two, it turned out, was a member of the Philippine Drug Enforcement Agency. So were nearly 20 others who were pursued by the anti-narcotics team of the QCPD, who had conducted a drug sting at the fast-food outlet. PDEA chief Wilkins Villanueva said yesterday that the other fatality was a civilian informant of the agency.
According to initial news reports on Wednesday, when the policemen introduced themselves and announced the drug bust, the PDEA agents opened fire, instantly killing two of the cops and triggering the gunfight. Both agencies claim coordination with each other. How hard is efficient coordination in the time of smartphones, and with several agents even wearing the uniform of their respective agencies during the operation?
Villanueva, in a joint press briefing yesterday with the PNP chief, said it could take up to two weeks before the complete picture emerges on what happened. He claimed his men were also conducting a drug sting. But while the PNP has pointed to the camp that turned out to be PDEA members as the target of the police drug bust, maintaining that story until yesterday, Villanueva would not or could not say who the supposed target of the PDEA team might be.
The PDEA chief hinted at the possibility that drug traffickers themselves had set up both the agency and the PNP for a deadly fiasco. If this proves to be true, it would be a first for the two agencies and a disastrous indictment of their performance. The PDEA chief is right: the truth must come out, unvarnished, with nothing swept under the rug.