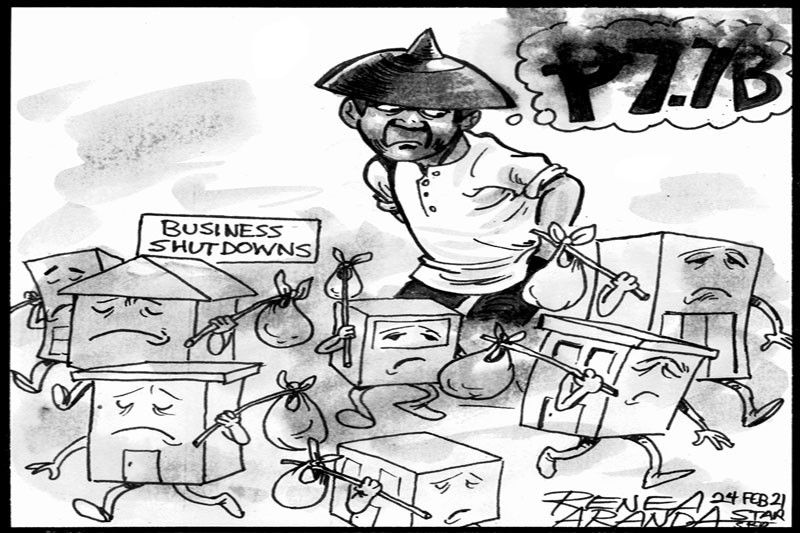 EDITORIAL - Shuttered businesses
(The Philippine Star) - February 24, 2021 - 12:00am
Pasay City expanded yesterday from 34 to 55 the number of barangays under granular lockdown because of a surge in COVID cases. The Pasay government has also sent an SOS to the Department of Health amid fears that the city is facing a transmission of the coronavirus variant first detected in the United Kingdom, which is said to be highly infectious.
One of the confirmed UK variant cases in the Philippines is a Pasay resident, a 46-year-old mother of a worker at the Metro Rail Transit-3 depot where a cluster of COVID-19 infections has been reported.
The growing problem in Pasay illustrates the continuing unpredictability of COVID-19. It also shows that President Duterte's decision to maintain the quarantine status in Metro Manila and several other areas is sensible.
The President decided that without a vaccine rollout, areas under general community quarantine including Metro Manila could not be eased to the most lenient modified GCQ by March 1, as suggested by the National Economic and Development Authority. The President, apart from deferring the shift to MGCQ, also rejected proposals for limited face-to-face classes.
While some business leaders acknowledged the issues that were considered in the President's decision, they also expressed concern over the possibility that full economic reopening might have to wait until 2022. Last year, at least 119,596 registered businesses were forced to shut down, costing the government P7.767 billion in "forgone revenues," the Bureau of Internal Revenue told the House of Representatives.
Apart from revenue losses from shuttered business enterprises, livelihoods in the informal economy have been decimated by the COVID pandemic. With the shift to MGCQ in Metro Manila, the country's economic center, rejected by the President, NEDA is revisiting its 2021 target for gross domestic product growth, as analysts warn that recovery will be slow for the Philippines.
Protecting lives and reviving livelihoods will depend heavily on the start of mass COVID vaccination. Even President Duterte, according to Malacañang, is becoming impatient. The economic prognosis and the risks posed by the more infectious COVID variants should provide more impetus for speeding up the vaccination rollout.