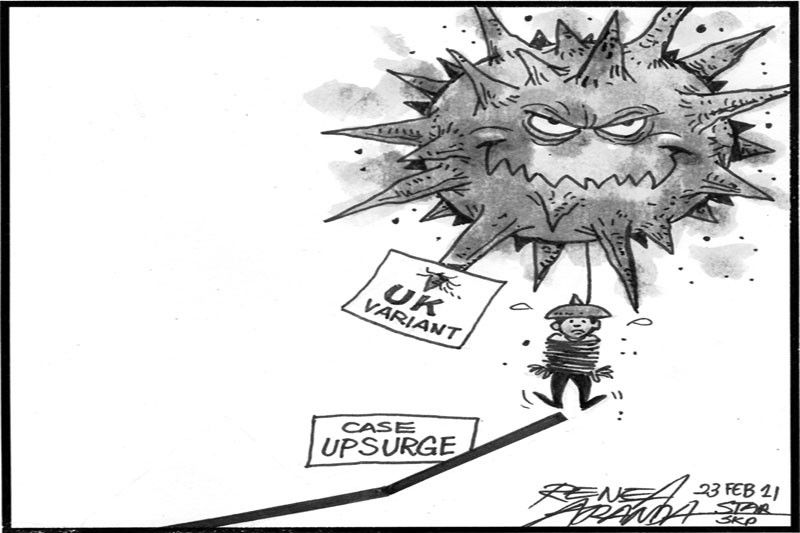 EDITORIAL - Spreading threat
(The Philippine Star) - February 23, 2021 - 12:00am
As of last weekend, the Department of Health reported the detection of 18 more cases in the country of the highly infectious variant of the COVID virus that first emerged in the United Kingdom. This brings to 62 the total cases of the UK variant recorded in the Philippines, according to the DOH.
In addition to the UK variant called B117, the DOH is also monitoring "variants of concern" as well as "mutations with potential clinical significance" in several areas of the country.
Government officials are reassuring the public that the situation remains under control, with detection, contact tracing and isolation protocols working. Still, 62 infections since the first B117 case arrived in the country on Jan. 7 is a worrisome transmission trend. In Central Visayas, meanwhile, three more cases of the virus mutations called N501Y and E484K were reported over the weekend, bringing the total to 34.
The government has stressed the capability of the country, through the Philippine Genome Center, to detect variants of SARS-CoV-2, the original virus that causes COVID-19. The 18 new cases of B117 were among the seventh batch of 757 samples sequenced by the PGC on Feb. 18.
Of the 18 new variant cases, 13 are returning overseas Filipinos who arrived in the country between Jan. 3 and 27. The DOH said all the ROFs have recovered, like the three other B117 cases from the Cordillera Administrative Region, two of them 12-year-old boys.
Yesterday, the DOH reported the highest number of infections in a day in the past three months, with 2,288 confirmed cases. All these infection figures – whether of the original coronavirus or its mutations – show that the pathogen is not slowing down.
The infections highlight the urgency of continued strict compliance with COVID health protocols, even as the country continues opening more sectors to revive the economy. With highly infectious COVID strains spreading and the vaccination program moving at a sluggish pace, the nation cannot afford to let down its guard.