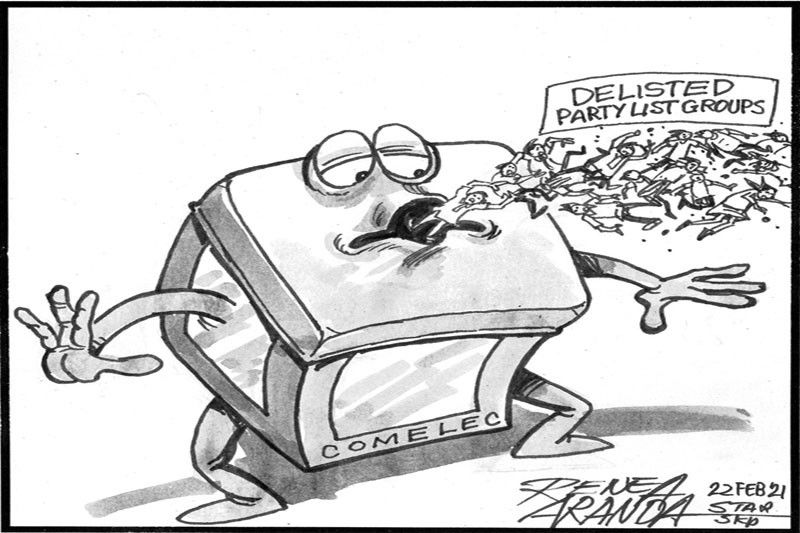 (The Philippine Star) - February 22, 2021 - 12:00am
With 15 months to go before the general elections, 39 groups have been dropped from the roster of organizations accredited for the party-list system.
The Commission on Elections canceled the registration of 30 of the 39 for failing to obtain the required percentage of votes or win a seat in the last two elections. The remaining nine, meanwhile, did not participate in the last two elections, according to the Comelec.
Delisted were the 1-AHAPO, ABAKADA, Abamin, Ako An Bisaya, Alay Buhay, All-Fish, Amepa OFW, Ang Nars, ANUPA, APPEND, ASEAN, Ating Koop, AVE, AWAKE, Banat, CONSLA, FICTAP, Global, Itong Ang Tama, Kamais, KMM, METRO, PBB, PM, SAMAKO, Sinag, Tao Muna, Tinderong Pinoy, Tricap and Unido.
The nine that failed to participate are the Ading, 1-AAMOVER, Ang Pamilya, AG, Alagad, ANAD, Kakusa, Kalikasan Party-list and 1-AANI.
The delisting should revive discussions on the purpose of the party-list. It was supposed to provide congressional representation to marginalized groups. Instead the system has become a farce, with accredited organizations not even representing any particular group, marginalized or otherwise. Their congressional representatives are anything but marginalized, and do not even belong to the sectors that the groups are supposed to represent. Even large political parties and religious groups have party-list representation.
Groups are included in the ballot without even identifying the individuals who would occupy a congressional seat if the organization gets the required number of votes. Party-list lawmakers account for about a sixth of the membership of the House of Representatives, getting an equal share of government projects that they can earmark for funding allocations, with public funds used to maintain their offices and staff.
The Comelec had tried to regulate the system and make it truly representative of marginalized sectors. The Supreme Court, however, has set jurisprudence that has allowed the system to deteriorate into its current state. Congress can't be expected to initiate any move that will rock the boat. Thirty-nine groups have been delisted; they could be replaced by even more.