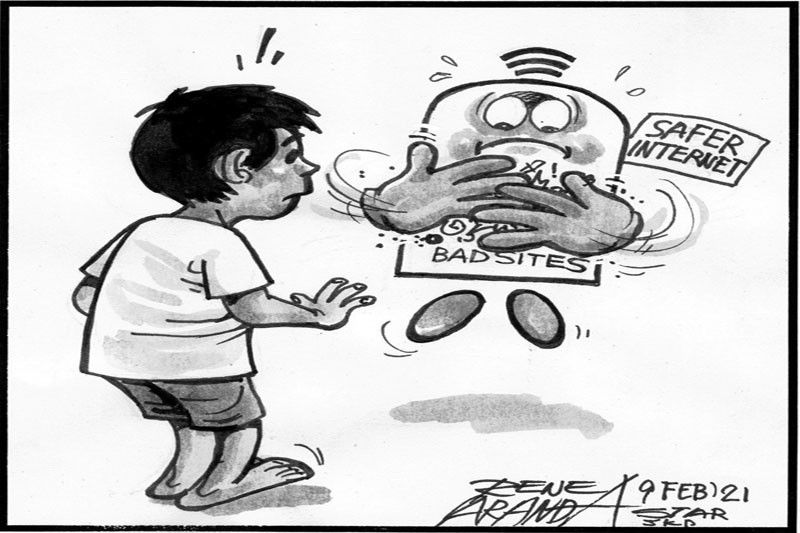 EDITORIAL - Safer internet for children
(The Philippine Star) - February 9, 2021 - 12:00am
Even before the COVID pandemic, the Philippines was already being tagged by child rights advocates as the global epicenter of the online sexual exploitation of children. When lockdowns were imposed last year to contain the coronavirus, the Department of Justice's Office of Cybercrime reported 279,166 tips on OSEC from March to May alone – a leap of 265 percent from the same period in 2019.
Around the country, the shift to distance learning during the pandemic broadened children's access to the internet. At the same time, the loss of livelihoods prompted parents to turn to their children for OSEC to make ends meet. Quarantine restrictions made it difficult for child welfare and law enforcement personnel to pursue reports of OSEC. The problem became so serious that child welfare advocates described OSEC as "the secret pandemic."
How to make the internet safe for children is the focus of this year's observance in the country of Safer Internet Day. The initiative, which the Philippines joined in 2013, is coordinated by the UK Safer Internet Centre in Britain and marked in over 100 countries. As recommended by the United Nations Children's Fund, this year's theme in the Philippines is "New normal: Safe internet for all."
Spearheaded by the Department of Social Welfare and Development, the government is working with civic groups and other stakeholders to operationalize the Child Online Safe Guarding Policy. This is provided under Republic Act 10929 or the Free Internet Access in Public Spaces Act.
Worldwide, today's theme is "together for a better internet." Pandemic restrictions forced many activities to migrate online. As we are seeing even in the Philippines, however, the anonymity provided by the internet also compromises the reliability of information as well as products and services sold digitally. The anonymity has also been a boon for a wide range of illegal activities, including terrorism, drug trafficking, intellectual property theft as well as OSEC and other forms of human trafficking.
OSEC is a complex problem that calls for community participation and a whole-of-nation approach. Technology can be empowering and its positive uses must be highlighted. Creating a better, safer online community calls for the participation of everyone: parents, teachers, social workers, the youth, law enforcers, local governments and barangays, private companies and policy makers.