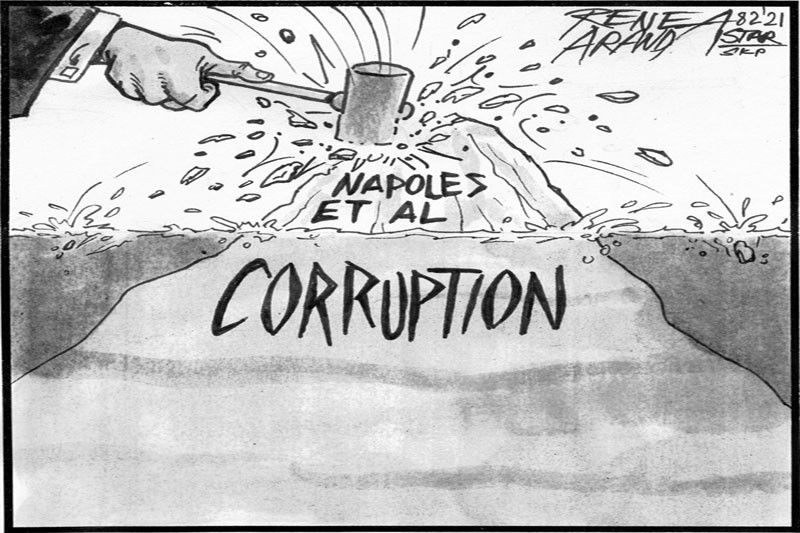 EDITORIAL - Second conviction
(The Philippine Star) - February 8, 2021 - 12:00am
Dispelling criticisms that it is a clearing station for crooks, the Sandiganbayan anti-graft court has convicted Janet Lim Napoles for the second time in connection with the diversion of the Priority Development Assistance Fund or PDAF, the formal name for the congressional pork barrel.
Napoles, the accused mastermind, was convicted of three counts of graft and malversation of public funds, together with her co-accused, former Cagayan de Oro Rep. Constantino Jaraula, former Technology Resource Center employees Ma. Rosalinda Masongsong Lacsamana and Belina Concepcion, and Cared president Mylene Encarnacion. Cared was the NGO through which Jaraula's PDAF funds were funneled.
For the graft case, they were sentenced to six to 10 years in prison for each count. For malversation, they received 12 to 18 years per count. They were ordered to pay P28 million for graft and another P28 million for malversation. Jaraula also received a prison term of nine years for each of the three counts of direct bribery for receiving P2 million in grease money from Napoles.
It was the second conviction for Napoles over the PDAF scandal. She is serving a life term over her conviction for plunder in 2018. In a bizarre ruling, her co-accused Sen. Ramon "Bong" Revilla Jr. was acquitted but ordered to return P124.5 million – nearly half of the P224.5 million that he allegedly received in PDAF kickbacks from Napoles through his aide Richard Cambe, who was convicted and faces up to 40 years in prison.
The Sandiganbayan has yet to clarify once and for all if Revilla must return the P124.5 million. With the clarity must come an order to return the money stolen from the people. Senators are not above the law; anyone who defies a court order must face appropriate punishment.
Meanwhile, people expect Napoles and her cohorts in Congress to face more charges in connection with the scam. The Commission on Audit had presented documents that reportedly implicated about 200 members of both chambers of Congress, many of them still in office; about 100 have been indicted or are under investigation for the PDAF scam. The Office of the Ombudsman, also saddled with perceptions that it is a clearing station for the corrupt, should pursue these cases without letup.