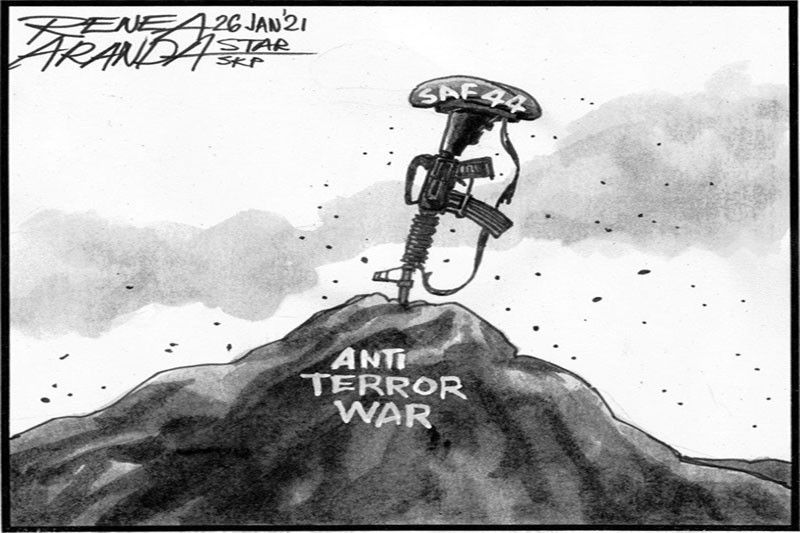 EDITORIAL - No accountability
(The Philippine Star) - January 26, 2021 - 12:00am
Six years after 44 commandos of the Philippine National Police Special Action Force were gunned down by combined teams of the Bangsamoro Islamic Freedom Fighters and the Moro Islamic Liberation Front, relatives of the slain men are still waiting for justice.
The 44 were hunting down international terrorist Zulkifli Abdhir, alias Marwan, in Tukanalipao, Mamasapano, Maguindanao on Jan. 25, 2015 when they were greeted with blistering gunfire, some from what investigators said were 50-caliber Barrett sniper rifles that mutilated faces and limbs. The MILF, whose peace talks with the government were stalled by the killings, described it as a misencounter, claiming that 18 of its members also died. The Senate, following an investigation, described the case as a "massacre" meant to protect a terrorist with a $5-million bounty on his head.
The operation code-named Exodus, according to the Senate probe, was supervised by Alan Purisima, who at the time was supposed to be under preventive suspension as chief of the Philippine National Police. In November 2017, the Office of the Ombudsman dismissed charges of reckless imprudence resulting in homicide, which were filed against Purisima, SAF commander Getulio Napeñas and then president Benigno Aquino III. Instead charges of graft and usurpation of authority, which carry a lighter penalty, were filed. The ombudsman threw out the charges against Aquino in 2019 while the Sandiganbayan junked the cases against Purisima and Napeñas in January last year.
A petition has been filed, urging the ombudsman to reopen the investigation. The petition includes a report on the killings, which was prepared by the PNP Board of Inquiry led by the chief of the Criminal Investigation and Detection Group at the time, Benjamin Magalong, now the mayor of Baguio City. So far there has been no action from the ombudsman on the petition.
To this day the country has yet to establish who fired the shots that mutilated several of the SAF 44, and where the coddlers of Marwan got their sniper rifles. The problem with sweeping things under the rug and letting bygones be bygones, without justice being rendered and without accountability, is that a similar incident could happen again, and more people could be killed with impunity.