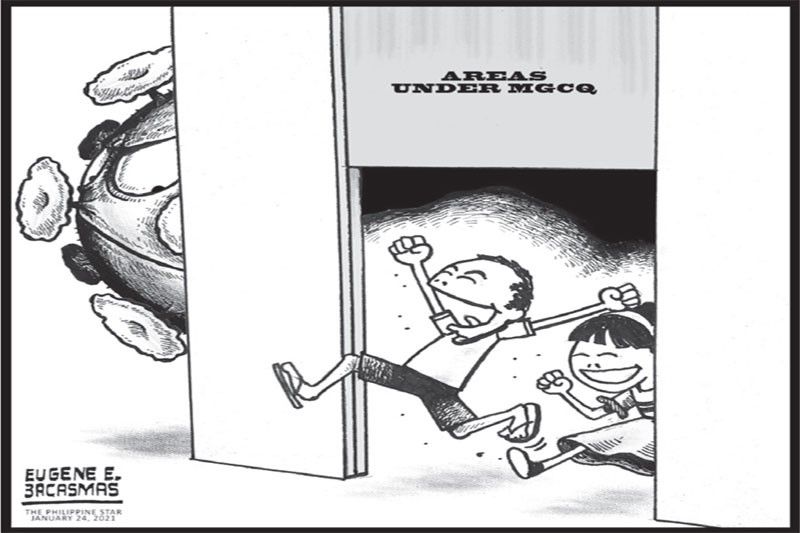 EDITORIAL - Weighing the risks
(The Philippine Star) - January 24, 2021 - 12:00am
Around the world, balancing lives and livelihoods has been a difficult challenge throughout the coronavirus pandemic. In certain countries where COVID vaccination has started, governments are being forced to restore mobility restrictions including curfews and business shutdowns as a more infectious variant of the COVID virus is detected.
This variant, first detected in the United Kingdom, is now in the Philippines, raising concern among health experts and those tracking COVID transmission. The concern has been heightened by the decision of the government, announced last Friday, to allow children from 10 to 14 years old to go out of their homes.
The decision of the Inter-Agency Task Force for the Management of Emerging Infectious Diseases supported a proposal of the economic cluster, which noted that the move would allow families to go outdoors and visit places such as malls and restaurants together. The IATF decision covers areas under modified general community quarantine, meaning that the restrictions on children will remain in place in Metro Manila, epicenter of the pandemic, and other areas that are not yet under MGCQ.
The inability to bring along children for family activities outside homes has been seen as one of the hindrances to reviving businesses. The IATF reportedly believes that children age 10 and older are discerning enough to observe COVID health safety protocols such as wearing masks, physical distancing and hand hygiene.
Still, experts point out that COVID transmission is in fact flat in the National Capital Region but on the rise in several areas outside the NCR. OCTA Research fellows have warned that easing age-based mobility restrictions would be "very risky" especially at this time when the country is on high alert for the possible spread of the COVID variant.
And it spreads with unusual, frightening speed, as the world is seeing in the UK and other parts of Europe as well as several US states, where lockdowns have been reimposed to curb the contagion. These are places where COVID vaccination is now underway, with shots that epidemiologists say work as well on the variants.
At least these places have begun to equip their citizens with the weapons to fight the virus mutations. In the Philippines, a reliable COVID vaccine is still months away. Until mass vaccination gets underway, the country must carefully weigh the consequences of moves that could lead to a return to tighter restrictions, which will defeat the purpose of reviving the economy.