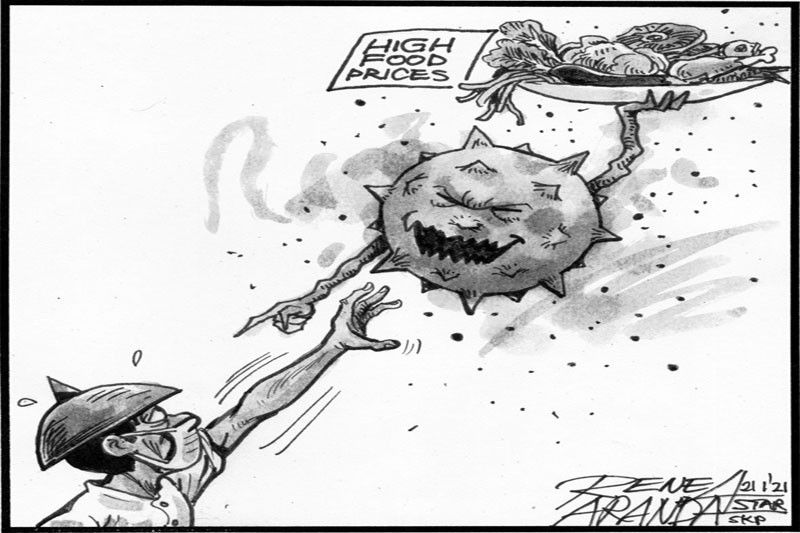 EDITORIAL - Spiraling prices
(The Philippine Star) - January 21, 2021 - 12:00am
Suggested retail prices were announced for popular food products during the holidays, with a price freeze on certain items imposed from November until Jan. 17. Prices of food and several other basic commodities, however, continue to rise significantly, prompting organized labor to call for action from the government.
This week the Associated Labor Unions urged the Department of Agriculture and Department of Trade and Industry to intensify price monitoring and regulation amid what the group described as spiraling prices of food and other basic consumer goods.
Rising prices have also prompted organized labor to call for an increase in wages. The call is likely to be strongly opposed by employers, whose businesses have been battered by the COVID pandemic. But the workers' call emphasizes the need for relief from soaring prices especially of food.
Agricultural products in particular have surged in recent weeks. The price jumps in meat, notably pork, have been attributed to the continuing spread of African swine fever, which has now reached the Visayas. Prices of other basic items such as ginger, onions and pepper varieties as well as certain fruits have also surged.
Workers' groups suspect that these price hikes are due to hoarding and profiteering particularly by middlemen. While profit is necessary to sustain any business, the groups say the increases have become unreasonable. The price hikes are aggravating hunger, which has risen amid livelihood losses due to the COVID pandemic. The government has a continuing campaign against profiteers, but the workers' lament shows that the effort needs to be intensified.