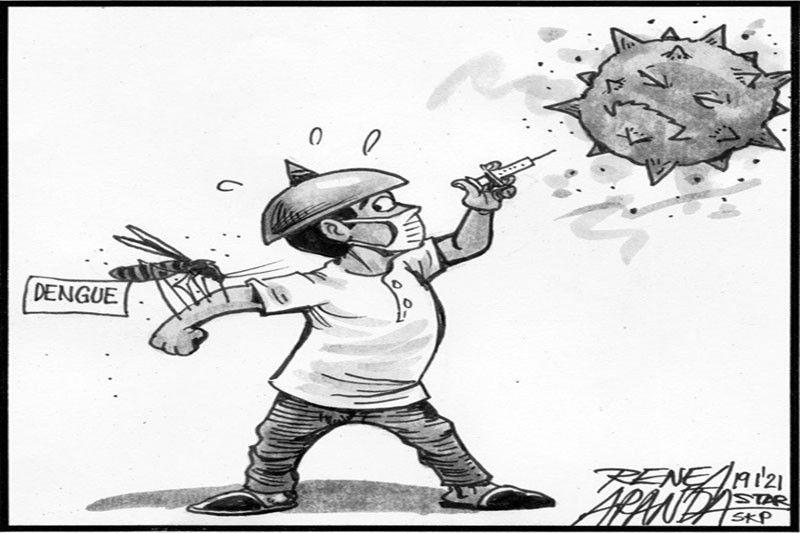 EDITORIAL - The persistent dengue threat
(The Philippine Star) - January 19, 2021 - 12:00am
Even as the world battles the COVID-19 scourge, there are other threats to public health that call for urgent attention. In the Philippines and other mostly tropical countries where mosquitoes thrive, dengue is a continuing threat, especially with the vaccination campaign in limbo following the Dengvaxia scare.
With Filipinos unlikely to accept any kind of vaccine against dengue anytime soon, the Department of Science and Technology is instead intensifying research and development on potential herbal cures for the potentially deadly disease. The DOST did not identify the botanical ingredients for its R&D, but it had previously said it was working on the common weed tawa-tawa, long used in folk medicine against fevers.
From January to November last year, 79,218 dengue cases were recorded nationwide. While the figure is 81 percent lower than in the same period in 2019 – a phenomenon partly attributed by epidemiologists to the COVID quarantines – dengue still claimed 306 lives. With no direct cure for dengue, treatment for the viral disease usually calls for hospital confinement, which can be costly except in state-run health facilities.
This year the DOST is set for Phase 2 clinical trials on a combination herbal extract being developed as a candidate drug to cure dengue. The test, which aims to have 600 volunteer participants, will be conducted by the De La Salle University in Dasmariñas, Cavite together with health science startup Pharmalytics Corp.
If the R&D succeeds in producing the candidate drug, it will be the first ever cure for dengue and could save countless lives. While the tests are being conducted, and even as the country grapples with the COVID pandemic, the persistent threat of dengue cannot be ignored.