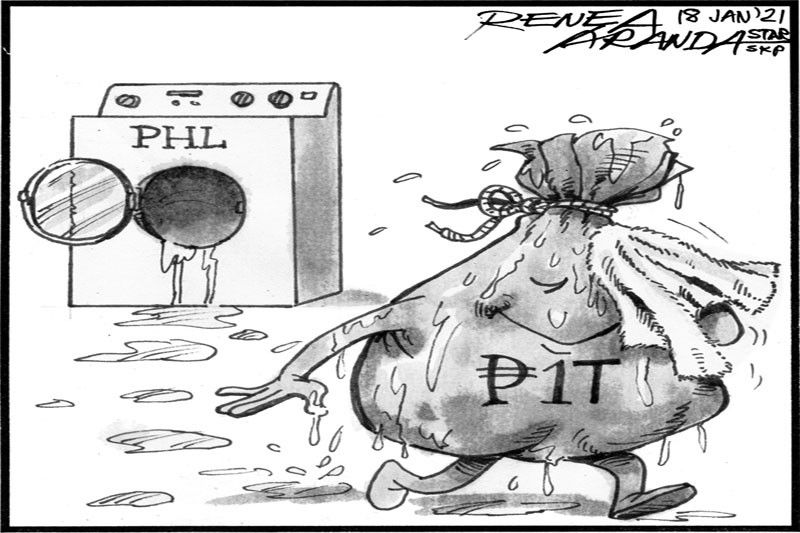 (The Philippine Star) - January 18, 2021 - 12:00am
If the government wants to intensify its campaign against criminality, it must ramp up efforts to go after financial crimes. Based on reports, if regulators could go after dirty money in the Philippine financial ecosystem, the amount would be more than enough to buy all the reputable COVID vaccines needed by the country, with many more in reserve.
A recent report from the Bangko Sentral ng Pilipinas estimated that proceeds from money laundering, proliferation financing and terrorist financing across the financial ecosystem have breached the P1-trillion mark. Proliferation financing, as defined by the Paris-based Financial Action Task Force, relates to dirty money used in the trafficking of nuclear, chemical or biological weapons.
In March last year, calls for tighter regulation of money laundering in the Philippines were aired after Australia's Westpac Banking Corp. was blamed for that country's worst-ever money laundering breach in 2019, with millions in cash remittances, some allegedly sent to child pornographers, going to Southeast Asia. Westpac's Philippine banking partner warned at the time that weak laws against money laundering combined with tough bank secrecy laws were attracting dirty money and eroding confidence in the country's financial system.
The BSP reported that criminals continue to use cash-based transactions to move dirty money in and out of the country's banking system. Criminal proceeds in the country were estimated to have reached from P938 billion to a whopping P1.02 trillion. Topping the list of sources of dirty money was corruption, with proceeds estimated at P670 billion to P752 billion. Other sources were smuggling with an estimated P100 billion; tax evasion, P75 billion; environmental crimes, P50 billion; intellectual property violations, P31.9 billion, and drug trafficking with P11 billion in just the first half of 2020.
Among the suspicious transactions monitored by the BSP in 2020, swindling accounted for 41 percent or P12.83 billion in terms of value as of end-June. Trafficking in persons followed, with 20 percent of P6.19 billion. Drug trafficking placed third with 15 percent or P4.6 billion.
Those amounts are so hefty criminals would be willing to risk capture or even tokhang. As long as a criminal activity pays, it will proliferate. Shutting off the pipeline for dirty money is critical for the success of any campaign against criminality.