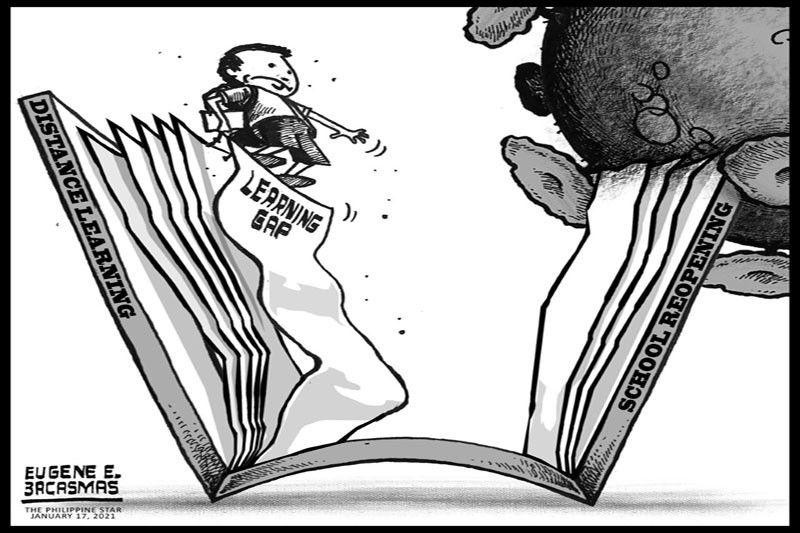 EDITORIAL - Reopening schools
(The Philippine Star) - January 17, 2021 - 12:00am
Digital technology allowed students to continue formal education this year, even with the school opening delayed for a few months by COVID-19 restrictions. With vaccines against the coronavirus now being rolled out around the world, however, the United Nations children's agency wants governments to speed up the return to regular classes.
In a statement, executive director Henrietta Fore of the United Nations Children's Fund said priority must be given to the reopening of schools, even as more infectious variants of COVID spread. The Unicef director warned that the negative effects of another year of school closures "will be felt for generations to come."
Epidemiologists might dispute Fore's point that schools are not drivers of the COVID pandemic. But Unicef has solid basis for reporting that the pandemic lockdowns left over a third of school children worldwide with no access to remote learning modes. Unicef estimates the number of children out of school to hit 24 million as a result of the pandemic lockdowns. In the Philippines, over two million of the expected elementary and high school students failed to enroll this school year.
Distance learning, as even Philippine education officials have noted, is adversely affecting children's ability to read, write and do basic arithmetic, according to Fore. Many homes especially in crowded depressed communities cannot provide the environment needed for formal education.
Cooped up at home, children are also suffering from mental distress and losing physical fitness, Fore pointed out. Child welfare advocates have also noted the higher risk of violence and exploitation faced by children who are forced to spend more time with abusive parents or guardians at home.
Most parents would not let their children return to face-to-face classes while the pandemic rages. The spread of a more infectious COVID variant has heightened parents' concerns, especially with the slow rollout of the vaccination program.
The issues raised by the Unicef director, however, merit consideration. The school year is just approaching the halfway mark; the next academic year will likely open in the third quarter. By that time, COVID vaccination is expected to be fully underway. Educators can start planning for the full return of face-to-face classes.
When distance learning modes were launched to address the challenges posed by the pandemic, the goal was to ensure that no child would be left behind. The goal was not achieved, and the learning gap must be narrowed as soon as circumstances allow it.