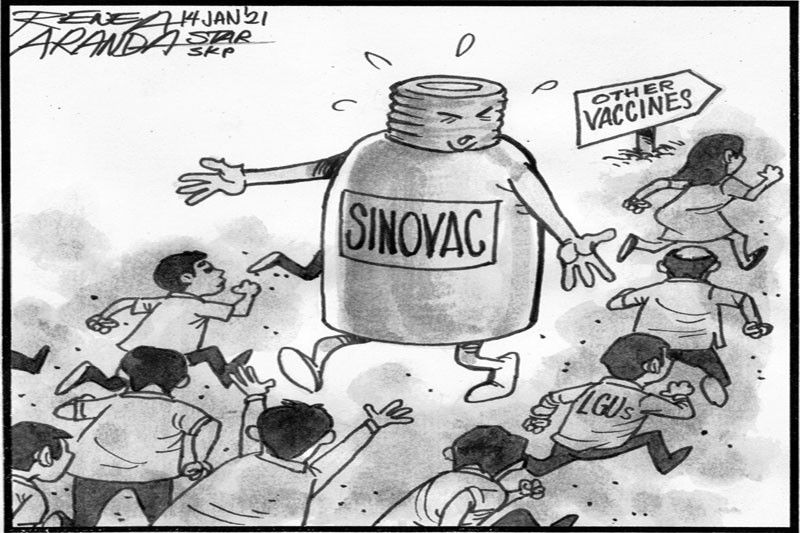 EDITORIAL - Vaccine hesitancy
(The Philippine Star) - January 14, 2021 - 12:00am
Government officials have conceded that people cannot be forced to take vaccines. In recent years the hysteria over Dengvaxia, the world's first vaccine against dengue, made parents keep their children away from the government's long-running vaccination programs.
The result was a spike in measles cases in 2019 that led to 576 recorded deaths as of Nov. 23 of that year. It also led to a return of polio in 2019, nearly two decades after it was eradicated in the country. Reports of deaths and infections from vaccine-preventable diseases reduced the impact of the Dengvaxia scare. While parents with their children have trickled back to inoculation centers, however, the two health problems have not been fully contained.
This should provide valuable lessons in heeding public sentiment on vaccination. Local government executives are stressing this point as the national government prepares to roll out the COVID vaccination campaign using shots that suffer from a deficit of public trust in this country.
The local executives are worried that the shots will only be wasted if these are rejected by the intended recipients. Vaccine hesitancy won't matter too much if the shots are given for free to the country. But if tax money, already in acutely short supply amid the continuing pandemic, is used for the vaccine procurement, public acceptance of the shots is critical.
Aware of their constituents' vaccine preferences, several local government executives are directly negotiating with pharmaceutical companies for the procurement of their COVID vaccines, which have been approved by drug regulators in the United States, the United Kingdom and European Union. The local officials want a freer hand in procuring their vaccines. While they are prepared to participate in an information campaign to overcome public resistance to vaccines made in China, they are urging the national government to heed vaccine preferences at the grassroots. It is a proposal that calls for serious consideration if the COVID vaccination program is to succeed.