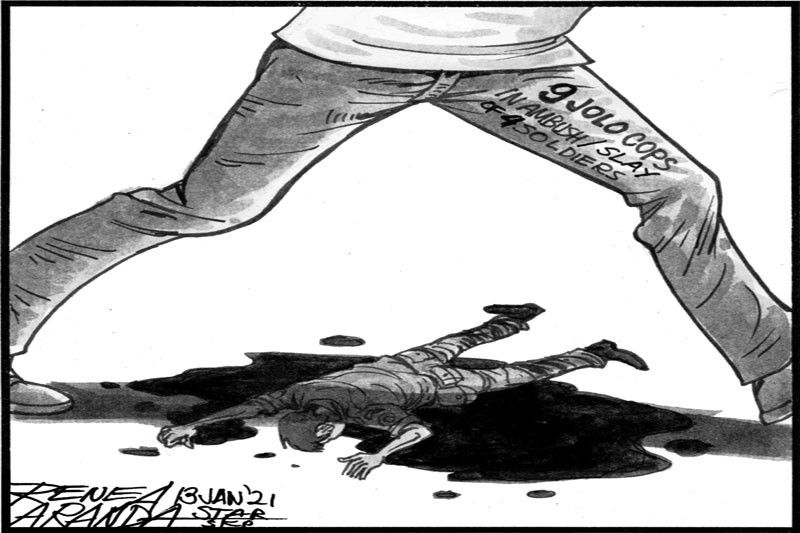 EDITORIAL - Wanted: Arrest warrants
(The Philippine Star) - January 13, 2021 - 12:00am
This is what happens when the wheels of justice turn slowly. This week the Armed Forces of the Philippines expressed dismay over the release of nine dismissed policemen facing charges for the fatal shooting of four Army intelligence officers in Sulu in June last year.
In the absence of court indictments and arrest warrants for the nine, the Philippine National Police had no legal basis to continue detaining them at Camp Crame, headquarters of the PNP, following their dismissal from the service, police officials explained.
They said that after getting an update on the case from the Department of Justice, the PNP was informed that there were still no arrest warrants. To avoid charges of arbitrary detention, the PNP turned over the nine to their lawyers and relatives last week.
Now government prosecutors are scrambling to file the cases in court and secure the warrants, before any of the nine decides to flee and evade justice. The nine face charges for four counts of murder and another for allegedly planting a gun beside one of the slain soldiers.
The four Army officers were on a mission to track down suspected Islamist bombers when they were shot dead in what some PNP officials have attributed to a misunderstanding. The subjects of the Army intelligence mission were later believed to have carried out suicide bombings in Jolo.
With their dismissal from the PNP, the nine surely have an inkling of where their criminal indictments are headed. They might prefer to face the charges in court to clear their name, but there is also the likelihood that they will opt to go into hiding. Such stories, unfortunately, are all too common in this country.