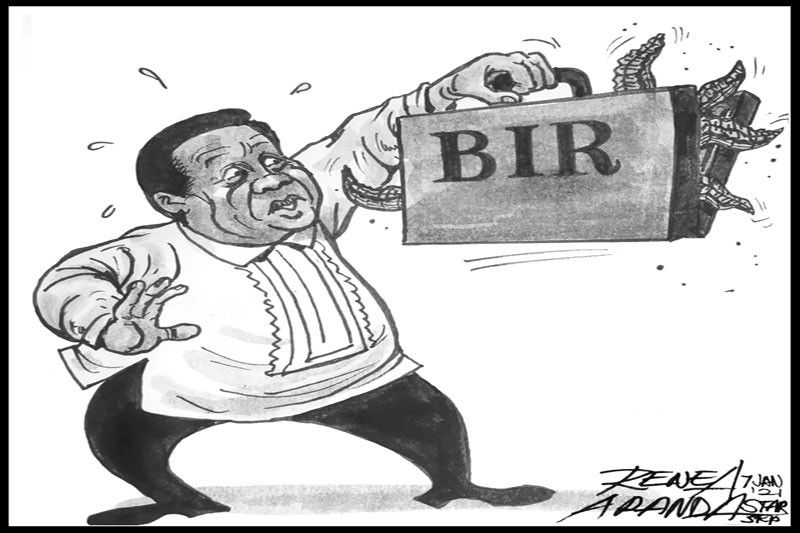 EDITORIAL - Again, cleaning up the BIR
(The Philippine Star) - January 7, 2021 - 12:00am
Through several administrations, the same agencies keep cropping up when corruption is discussed. Inevitably, the revenue-generating agencies are always at the top of the list, even in surveys on corruption perceptions. These agencies are followed by those that award large-scale contracts, led by the Department of Public Works and Highways.
The DPWH has been singled out by President Duterte himself for cleansing, even as he stresses his confidence in the integrity of its current head Mark Villar. Last week the President ordered the suspension of DPWH regional directors linked to anomalies in which eight incumbent congressmen and a former lawmaker have been implicated by the Presidential Anti-Corruption Commission.
Also high on the President's hit list are the revenue-generating agencies: the Bureau of Customs, Land Registration Authority and of course the Bureau of Internal Revenue. This week the President ordered the reshuffle and "freezing" of BIR personnel believed involved in irregularities. If those suspected of involvement in graft cannot be pinned down for formal indictments, he said they could be placed on floating status or "frozen" without assignments.
The Department of Finance already has a program in place against corruption within its agencies. Called RIPS – for Revenue Integrity Protection Service – the program has so far conducted probes on 384 officials and employees of the DOF and its attached agencies since July 2016. The DOF reported that through RIPS, administrative and criminal complaints have been filed against 57 individuals before the Office of the Ombudsman and the Civil Service Commission, of whom 14 have been dismissed from the service.
Corruption can be highly lucrative, however, and crooks keep finding ways of going around transparency rules and digitization of services to eliminate red tape. The public can do its part in this effort, by refusing to pay bribes or "facilitation fees" to speed up services. People are also encouraged by the government to provide tips to investigators, through the "Information Against Corruption Page" on the DOF website.
Like many other problems, fighting corruption works best with public cooperation, with no sacred cows, and with whistle-blowers or tipsters feeling reassured that their reports will be acted upon and bear fruit.