EDITORIAL - Justice for Villavende
January 2, 2021 | 12:00am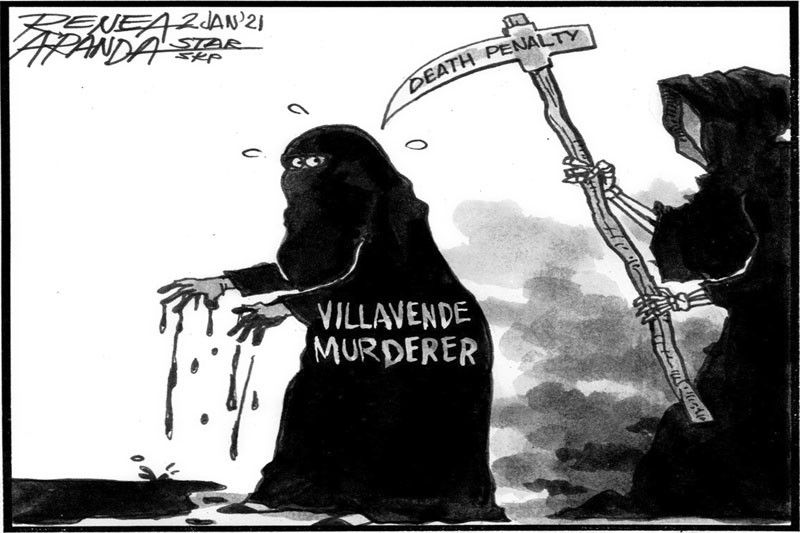 As the terrible year the world would rather forget drew to a close, there was one positive development: justice is on the way to being rendered in the case of Jeanelyn Villavende, the Filipina household service worker tortured and brutally murdered by her employer in Kuwait.
Before the New Year break, the Kuwaiti Criminal Court sentenced to death the woman who detained Villavende in a room where the maid was beaten for days until she was black, blue and no longer breathing. Villavende was already dead when she was brought to a hospital. An autopsy in the Philippines indicated that Villavende, 26, was subjected to beastly sexual assault.
The sentence has yet to be carried out. And while the Philippine government welcomed the speedy conviction, it is also considering an appeal of the four-year prison term slapped on the killer's husband, who was sentenced for failure to report the torture and murder.
Besides the possible appeal, more effort is needed to protect Filipino household workers, who have suffered the worst abuses overseas. In Kuwait alone, Villavende was the third house helper brutally murdered since 29-year-old Joanna Demafelis went missing in 2016. Demafelis' body, with broken ribs and with signs of internal bleeding, was found a year later, stuffed inside a freezer in the apartment that her employers, a Syrian and Lebanese, had abandoned.
Demafelis' murder strained relations between Kuwait and the Philippines. Ties improved with the signing of an agreement in 2018 to strengthen protection for overseas Filipino workers. The agreement, however, failed to protect Villavende, who was beaten to death in December 2019, and another OFW, Constancia Lago Dayag, who was murdered in May of the same year. The body of Dayag, also a house helper, bore signs of heavy beating and sexual abuse.
Heavier penalties are also needed for recruiters. Labor officials said that as early as September 2019, Villavende had complained to her recruitment agency about maltreatment and underpayment by her employer and had sought repatriation.
With the COVID pandemic swelling the ranks of the impoverished, more people will be desperate for jobs and vulnerable to unscrupulous recruiters. Kuwait and several other countries that are major employers of foreign workers reportedly apply uniform laws on all migrants. The agreement for better protection of OFWs may have to be revisited, to ensure that there will be no more Filipinos returning home in a box.