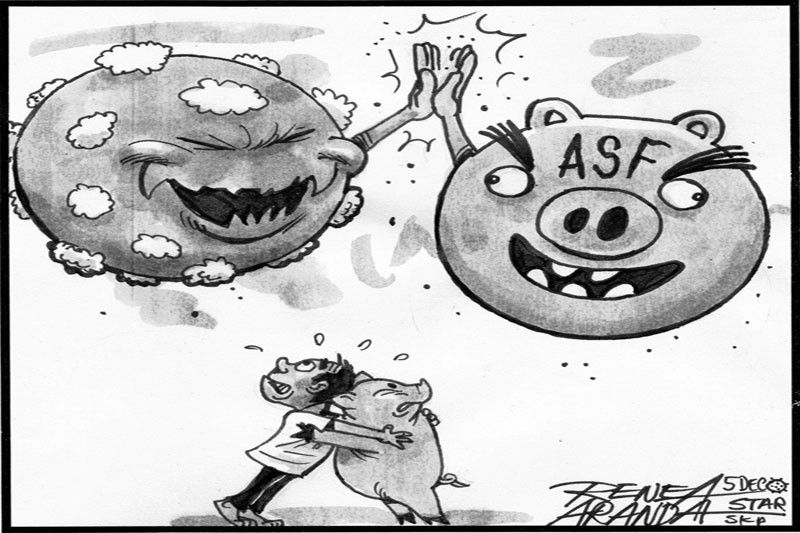 EDITORIAL - The other viral epidemic
(The Philippine Star) - December 5, 2020 - 12:00am
A virus was spreading, causing disease and death and devastating livelihoods.
This was back in September last year, months before the coronavirus arrived in the Philippines. Vaccination for COVID will begin next week in the United Kingdom and before Christmas in the United States. There is still no vaccine, however, for African swine fever, which continues to wreak havoc on the local hog industry.
As of this week, over 400,000 hogs have been culled nationwide to prevent the further spread of African swine fever, according to the Bureau of Animal Industry. Scientists stress that ASF is not harmful to humans. Officials have also given assurance that the country has enough pork and even ham for Christmas. But swine depopulation to prevent ASF transmission has caused heavy income losses particularly to small-scale backyard hog raisers.
When carcasses of diseased pigs floated along the Marikina River, allowing the ASF virus to spread last year, national and local government agencies went into emergency mode, restricting the transport of live pigs and pork products, inspecting hog farms for sanitation and possible contamination, banning the feeding of swill to pigs, and imposing health safety protocols for humans handling swine.
Over a year into the outbreak, however, the ASF threat has not been sufficiently contained. With the country preoccupied with COVID-19 and people reassured that the ASF virus cannot jump to humans, the swine fever problem has taken a backseat.
Unless it is decisively addressed, however, more hog raisers could lose their livelihoods. Pork supply could tighten and push prices up. Officials say the 403,206 pigs depopulated so far constitute 3.6 percent of the 11.27-million total hog inventory nationwide. ASF has so far affected hogs in 10 regions, 32 provinces, 378 municipalities and 2,024 barangays.
The disease, now said to be on its third wave, remains centered in Luzon. Agriculture officials attribute the containment to quarantine restrictions imposed to prevent COVID transmission. With restrictions being gradually eased, however, more effort is needed to prevent the virus from spreading to the Visayas. Officials have noted an uptick in ASF infections beginning in September. Even as the country battles COVID, authorities must move quickly to prevent ASF from getting out of control.