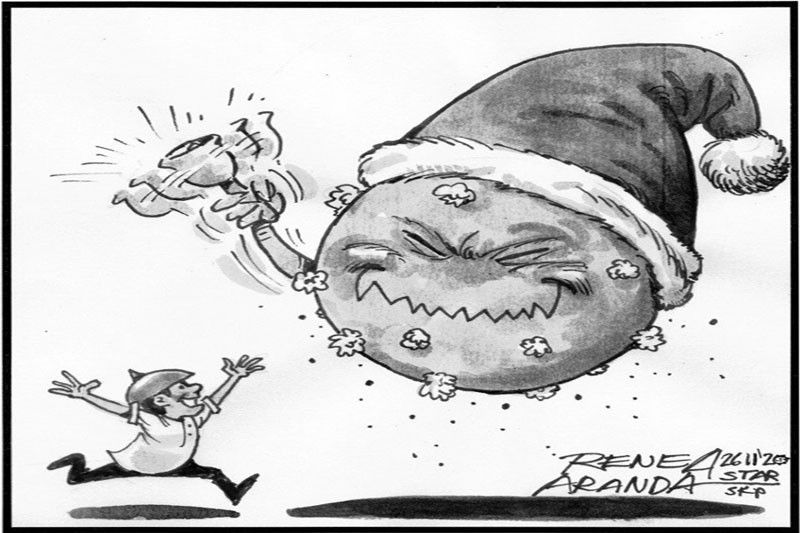 EDITORIAL - Holiday super spreader
(The Philippine Star) - November 26, 2020 - 12:00am
Echoing a warning from the World Health Organization, the Department of Health is reminding the public to continue complying with health safety protocols to prevent coronavirus transmission. The WHO and DOH reminders were issued as people prepare for Christmas get-togethers and holiday shopping picks up.
News about the imminent rollout of COVID-19 vaccines by December in the United States could be lulling people into a false sense that the deadly coronavirus is about to be beaten. Even if the best-case scenario timeline materializes in the US, however, vaccinating enough people worldwide is going to take several months.
In the Philippines, preparations have started for the required cold storage and logistics for the vaccines. Since the country will be importing the vaccines, however, it will have to wait in a long line to get the doses for its target coverage of at least 60 million Filipinos. As of this week, the most optimistic timeline that the government could present for the start of vaccination is in the second quarter of 2021.
That's at least five more months away, during which the COVID-causing virus will continue to pose a serious threat to life and public health. In the absence of a vaccine or cure for COVID, the world has adopted common health protocols to curb coronavirus transmission: wearing face masks and, in the Philippines, face shields; regular hand washing with soap and water or disinfection with 70 percent alcohol; keeping a distance of at least one meter from others to prevent the transmission of infected droplets.
In the holiday rush, distancing is proving to be the toughest challenge. The streets of Divisoria in Manila, for example, are packed with shoppers. Distancing is also becoming increasingly difficult to observe around churches as religious devotion intensifies with the approach of the birth of Jesus Christ.
The DOH warned that the holidays could turn into a COVID super spreader; health personnel are preparing for a spike in infections after Christmas. This, however, need not turn into reality, if people will continue to observe the health protocols that have helped slow down coronavirus transmission in the country in recent weeks.
It may look like COVID vaccines are now just around the corner, but the coronavirus can still infect and kill thousands more in the coming months before enough people are vaccinated worldwide. Holiday celebrations should not lead to illness or, worse, mourning for lives lost. A bit more patience will ensure that the sacrifices of the past months will not go to waste.