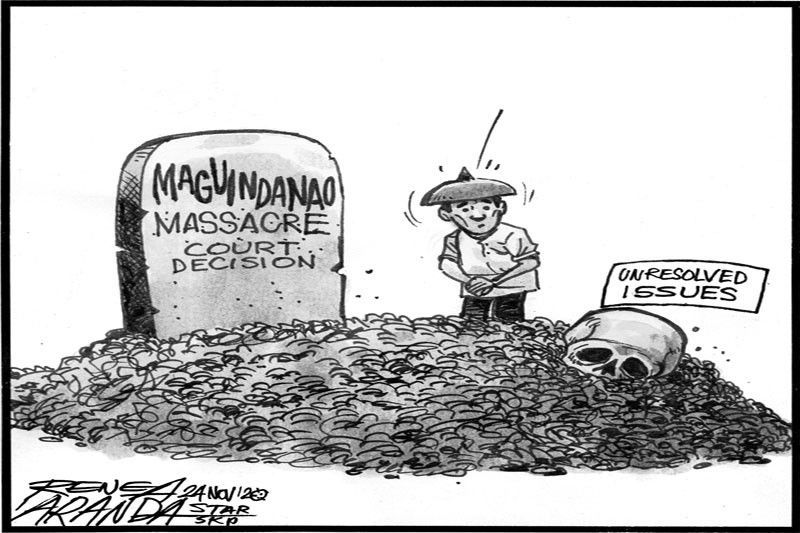 EDITORIAL - The other killers
(The Philippine Star) - November 24, 2020 - 12:00am
The principal perpetrators belonging to the Ampatuan clan are serving life terms in prison for multiple murder. Clan patriarch Andal Ampatuan Sr. died of liver cancer on July 17, 2015 while undergoing trial as one of the accused masterminds in the massacre of at least 57 people in his home province of Maguindanao.
Yet the 11th anniversary of the Maguindanao massacre was marked yesterday with nearly 80 suspects still at large. Of the 197 people indicted for the murder, only masterminds Andal Ampatuan Jr. and his brother Zaldy together with 26 others including police officials have been convicted in connection with the bloodiest case of political violence in the country, and the deadliest attack in the world on the news media. Thirty-two media workers were among those killed; the body of one, believed to be the 58th fatality, has not been found.
A decade is still better than the 200 years that the late senator Joker Arroyo warned could be the period of waiting for justice in the massacre, considering the weakness of the Philippine judicial system and the number of suspects that needed to be brought to trial.
But the failure to bring to justice more than half of the perpetrators of this atrocity continues to breed impunity, reinforcing the belief that one can get away with permanently eliminating political opponents and journalists.
In a resolution dated Aug. 28, 2019, government prosecutors decided to file a second batch of indictments, but covering only eight of 48 people. The victims' families were informed of the second batch of indictments only last month. The families are still appealing the dismissal of the charges against about 40 suspects.
Eight of the accused have died, and there are suspicions that some of those who remain at large have left the country. More effort is needed to catch the suspects. Apart from the impunity bred by the failure to bring the perpetrators to justice, there is the possibility that those who remain free – seeing that they can get away with murder – will kill again.