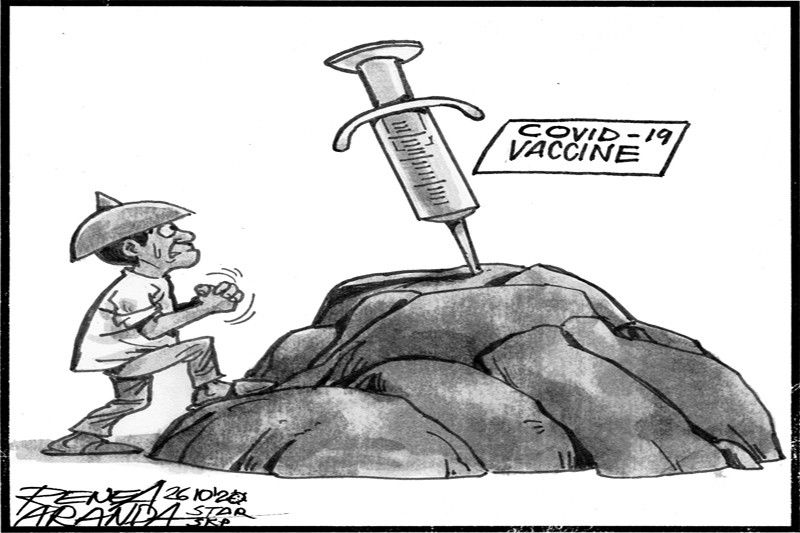 EDITORIAL - Vaccine-ready
(The Philippine Star) - October 26, 2020 - 12:00am
A Chinese company has reportedly begun administering to volunteers a vaccine against coronavirus disease 2019. Russia is also said to be gearing up for the rollout its own COVID-19 vaccine. The Americans are also preparing to distribute a vaccine as early as next month, with health frontliners to get the first shots.
With scientists in over 170 countries racing to produce a safe and effective vaccine against coronavirus disease 2019, it looks like it's just a matter of time before global immunization gets underway to end the worst pandemic in a century.
The Philippines, which is not producing its own vaccine, is hoping to get priority in the rollouts by participating in third and final-phase clinical trials for certain products in development. President Duterte has tempered his projections, saying a vaccine could become available for widespread use in the country by the first quarter of 2021 instead of within this year.
Even with the resetting of timelines, it looks like a vaccine is on the way, and the country must be prepared for it. Sen. Ralph Recto has called for the appointment of a "vaccine czar" to negotiate with foreign companies or governments so the Philippines will get priority in securing a "supply-to-syringe cold chain" for a vaccine. Health experts have pointed out the need for proper handling and storage of the vaccine at freezing temperature to ensure its utmost efficacy.
Logistics is always complicated in an archipelago of over 7,100 islands. This is expected to become more challenging with flights and shipping services limited by the pandemic, and with personnel worried about coronavirus infection. Every effort must be made to ensure that the vaccine supply will not be compromised by problems in logistics. With public coffers depleted by the responses to the COVID pandemic, every centavo of people's money must be used judiciously.