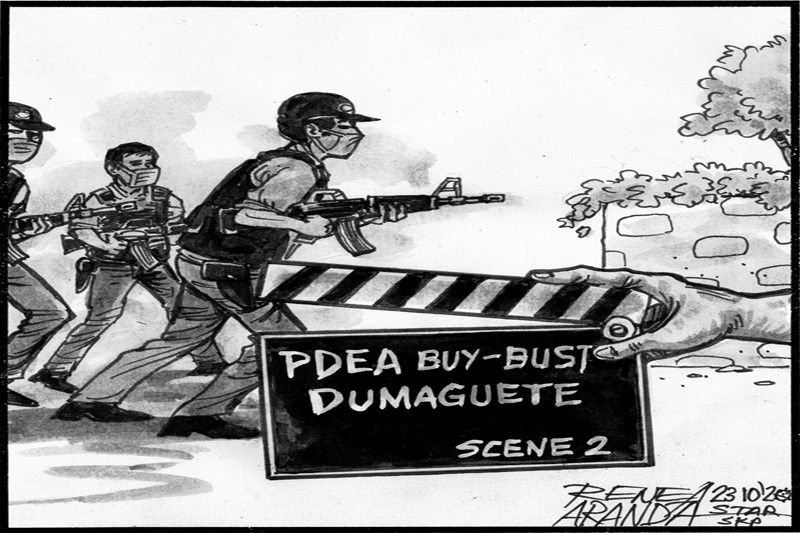 (The Philippine Star) - October 23, 2020 - 12:00am
It was supposed to be a drug sting that led to the arrest of five persons on charges of selling shabu to undercover agents at the home of one of the suspects. Thanks to technology, however, a court in Negros Oriental ruled that the supposed drug bust was staged by members of the Philippine Drug Enforcement Agency or PDEA in the afternoon of June 28 this year in Dumaguete City.
Closed-circuit television footage presented by the defendants to the Regional Trial Court Branch 34 in Negros Oriental showed them being picked up one by one at different spots, in a blue car that was established to belong to the PDEA. The defendants were then brought to the house of the principal suspect. The PDEA claimed this was where the sting was conducted, with three of the defendants already having a pot session and the fifth one arriving and handing the shabu to the house owner for sale to the undercover agents.
RTC Judge Amelia Lourdes Mendoza has initiated contempt of court proceedings against the five PDEA agents. It's unfortunate that the alleged PDEA sting even included two persons supposedly meant to observe that the operation was aboveboard: a barangay official and a person described as a media representative.
In recent months, the PDEA has made an effort to provide transparency in its operations, amid criticism of the brutality of the war being waged by the Duterte administration against the drug menace. The PDEA procured body cameras for use by its personnel during anti-drug operations. Non-members of the agency, including media representatives, have also been invited to join PDEA operations.
The five agents in Dumaguete have been recalled by their office pending an internal investigation. That small amount of shabu allegedly sold to the PDEA team could have earned the defendants several years in prison. The PDEA should determine the prevalence of faking drug busts among its units nationwide.
According to data gathered by law enforcement agencies, the drug problem is serious enough in this country, and there is no need for law enforcers to fake a sting or arrest. Staged operations can only erode the public cooperation that is critical for the long-term success of any anti-drug campaign.