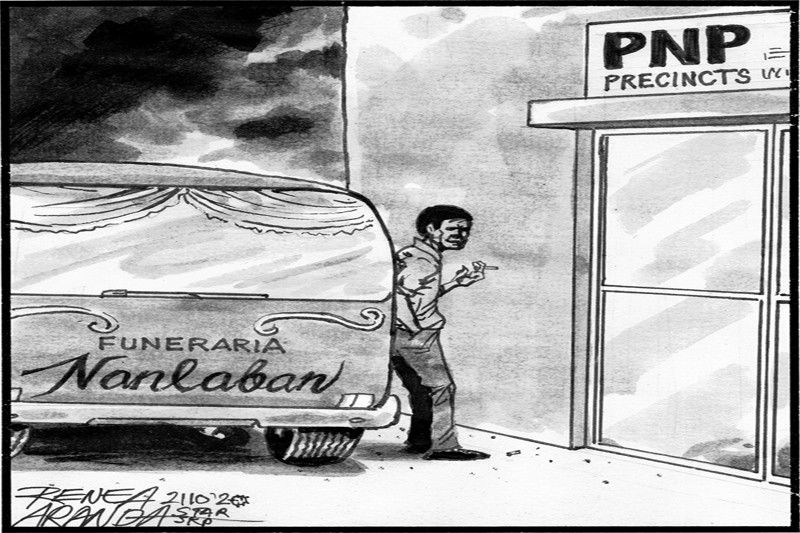 EDITORIAL - Killed in custody
(The Philippine Star) - October 21, 2020 - 12:00am
There are long-standing procedures for apprehending crime suspects and taking them into police custody. The most basic is a thorough frisking, to ensure that there is no weapon concealed even near intimate parts of the body.
Yet a drug suspect managed to conceal a .22-caliber handgun in his underwear – or at least this is the story of Cpl. Jomar Caligaran of the Manila Police District's Station 2. Caligaran claimed the suspect, about 30 to 35 years old, pulled the gun on him and fired, but missed. A scuffle for the gun ensued, during which it went off, hitting the suspect, Caligaran claimed.
The suspect was pronounced dead on arrival in a hospital on Sunday night, shortly after he was apprehended for alleged drug possession in Tondo, Manila. Without handcuffs, he was interrogated alone by Caligaran at the Drug Enforcement Unit office of the police station.
This is not the first time that a suspect has been shot dead in custody while allegedly trying to shoot a police officer. Some suspects even tried while in handcuffs to grab the gun of the arresting officer, according to police accounts. Another common story is that a suspect has been shot dead while trying to escape.
Caligaran's superiors at least aren't swallowing his story… for now. Caligaran has been relieved of his post pending investigation of the killing. Whether it will amount to an indictment for anything remains to be seen. The Internal Affairs Service of the Philippine National Police or the National Bureau of Investigation should step into this case. The police is tasked to keep the public safe. This mission is undermined by a cavalier attitude toward human life.