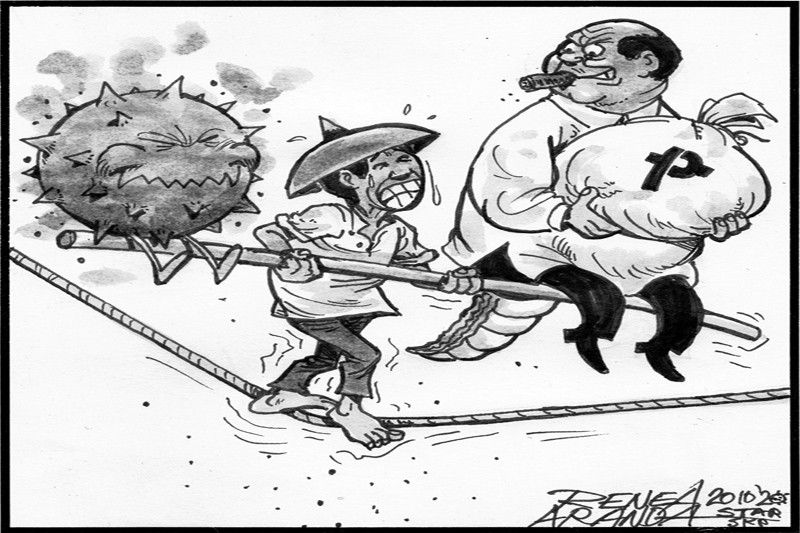 EDITORIAL - The ultimate betrayal
(The Philippine Star) - October 20, 2020 - 12:00am
For many years now, the United Nations, the World Bank and other organizations have focused on corruption as one of the biggest hindrances to development and a major contributor to poverty. The organizations have estimated that global economic losses from corruption amount to billions every year.
Basic services as well as the construction of critical infrastructure such as roads have suffered as public funds are diverted to private pockets. In 2009, for example, the World Bank barred several Chinese and Philippine contractors from participating in road projects funded by the bank, for collusion in bidding for certain projects in this country. Today the companies continue to operate in the Philippines.
Corruption has not taken a rest during the COVID-19 pandemic. In fact, the UN warned over the weekend that responses to the virus were opening new opportunities to exploit weak oversight and lack of transparency in governance, allowing crooks to divert public funds to personal coffers. The impact of this "ultimate betrayal" of public trust, the UN said, could be more damaging than COVID. It could also further derail global efforts to achieve the Sustainable Development Goals, the UN warned.
The UN has also pointed out that collusion among those who control supply chains has led to unconscionable price increases of items needed for COVID treatment and containment responses. This has denied life-saving treatment to those who can't afford it, the UN lamented.
While calling for transparency and accountability in governance, the UN has also urged private businesses to act responsibly. It also reminded governments about the UN Convention Against Corruption, a legally binding universal anti-corruption instrument adopted by the UN General Assembly in 2003. The Philippines is one of the 187 state parties to the convention. Most of the state parties have ratified, accepted, approved and acceded to the anti-corruption treaty, which came into force in 2005.
Amid the COVID health crisis, the Philippines continues to be rocked by corruption scandals, including one involving an agency directly involved in the pandemic response, the Philippine Health Insurance Corp. President Duterte has said fighting corruption is one of his top priorities. The World Bank warning adds urgency to the task.