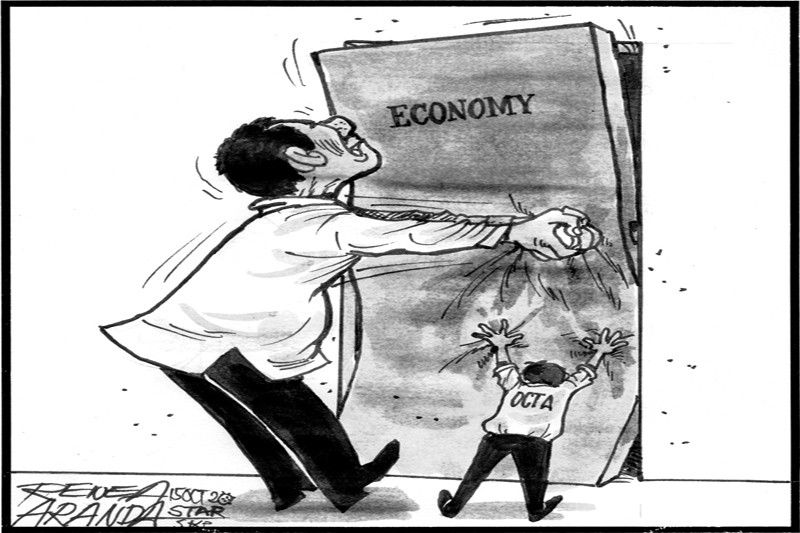 EDITORIAL - Avoiding a second wave
(The Philippine Star) - October 15, 2020 - 12:00am
Last month when the government reduced distancing rules on mass transportation from one meter to 0.75 for three days, researchers tracking coronavirus transmission nationwide saw a subsequent spike in COVID cases over five days.
This time, the Cabinet has approved what could be an even greater reduction in distancing on public transport: passengers need only be one seat apart. Video footage of several buses and jeepneys showed that "one seat" is highly relative, with only a plastic sheet separating passengers in traditional jeepneys, while only a few inches of space were left between bus passengers.
The easing of distancing rules on mass transport is in line with efforts to reopen the economy, with the public expected to adhere to basic COVID health protocols. Metro Manila mayors, who had earlier rejected proposals to shorten curfew hours, are now being asked by the national government to limit the curfew to only four hours to allow more businesses to operate.
The Department of Health explained that healthcare capacity rather than the number of COVID infections now governs the pandemic response. With no vaccine or cure in sight seen in the coming months, governments worldwide are taking calculated risks to restart crippled economies while expecting their citizens to protect themselves from infection.
Countries that reopened more sectors ahead of the Philippines, however, provide a cautionary tale. Several affluent Western European countries are seeing a resurgence of COVID and have been forced to reimpose lockdowns to contain the virus transmission.
The Philippines is now conducting more swab tests and has more laboratories to speed up the processing of the results. More quarantine facilities have been set up and QR codes and a mobile app are being used for contact tracing. Few people are using the app, however, and contact tracing still leaves much to be desired. Low-income sectors such as vendors and tricycle drivers are getting free swab tests from local governments, but the tests remain expensive even for the middle class.
Proponents of a wider reopening argue that the economy can no longer sustain a deeper contraction. People have to resume their livelihoods. The biggest risk lies in people themselves, if they fail to observe the minimum health protocols, notably wearing of masks, regular hand washing and disinfection, and physical distancing. But with distancing protocols greatly reduced in public transportation, will the minimum one-meter distance still be observed in other settings? With other countries seeing a second wave of COVID infections, proponents of the easing of restrictions should proceed with great caution. The transmission curve is flattening nationwide; the last thing we need is a second wave.