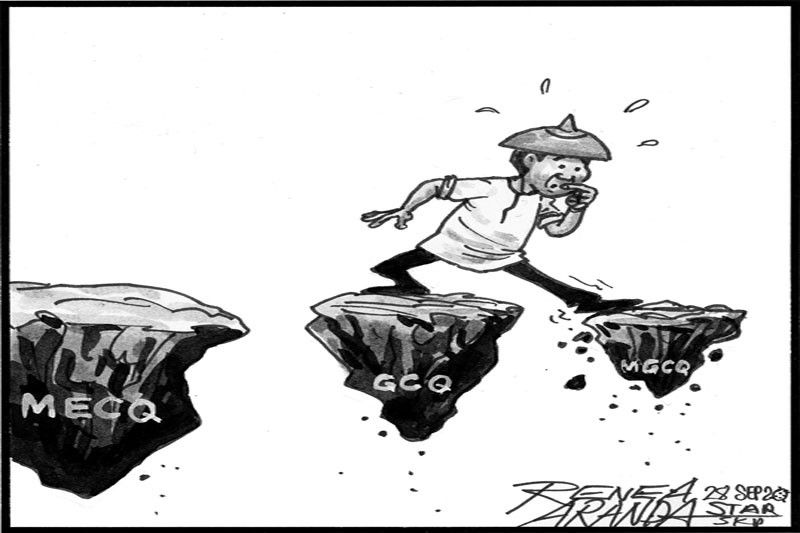 EDITORIAL- Ready for MGCQ?
(The Philippine Star) - September 28, 2020 - 12:00am
Into the seventh month of lockdowns to contain the coronavirus disease 2019, people are understandably raring to have their communities placed under the most lenient modified general community quarantine. In the absence of a COVID-19 vaccine, the MGCQ is the closest thing to pre-pandemic normalcy that people can hope for as they struggle to revive livelihoods battered by the lockdowns.
The MGCQ, however, must be supported by a sustained slowdown in coronavirus transmission. As of yesterday, 2,995 new cases were reported by the Department of Health, bringing to 304,226 the total caseload nationwide, with 252,510 already recovered. Of the 2,995 infections, a total of 2,694 occurred within the past two weeks.
With 60 new fatalities recorded, the death toll stood at 5,344 as of yesterday. Of the 60 deaths, 37 occurred in September and nine in August. Those pushing for the shift to MGCQ may also take note that Metro Manila remained the biggest source of the new cases, with 1,065 infections. Neighboring provinces followed: Cavite recorded 297; Bulacan, 180; Batangas, 157, and Laguna, 143.
Those numbers are still significantly high, and should be worrisome enough for those who are assessing suggestions to ease pandemic restrictions. Health experts as well as analysts from OCTA Research, who have been tracking the coronavirus transmission, have cautioned authorities against rushing the easing of restrictions without the necessary health interventions in place, such as an efficient and widespread contact tracing system as well as sufficient and affordable testing capability.
While there is general agreement that the economy is in dire straits and badly needs to be revived, a hasty reopening could lead to a resurgence of the transmission, as several countries are now experiencing. And like those countries, lockdowns may have to be reimposed in the Philippines if infections spike again.
As the month draws to a close, more businesses may be allowed to reopen, but all the health safety protocols – in the workplace and public places – cannot be relaxed until a vaccine or cure comes along.