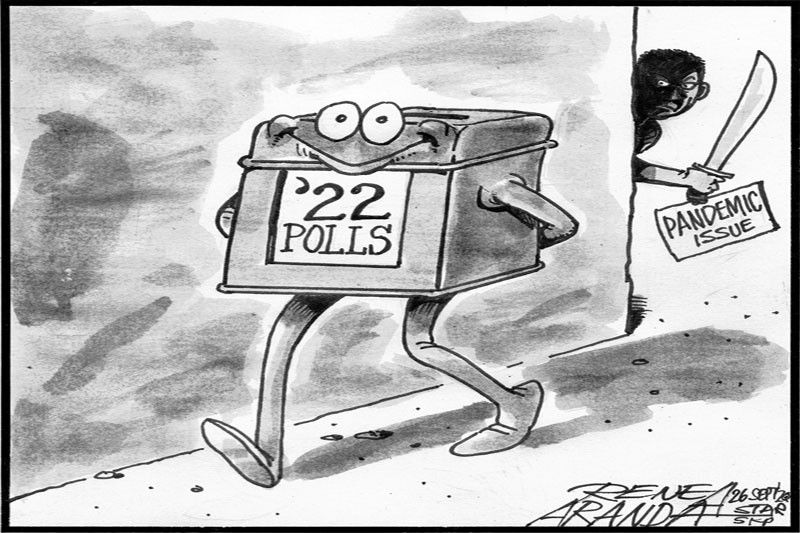 (The Philippine Star) - September 26, 2020 - 12:00am
Near the end of every administration, the idea is always brought up: postpone the next general elections. For those who want to stay in power beyond their terms, the idea is always tantalizing. It can be a preoccupation even amid the worst public health and economic crisis the country has seen.
In fact the pandemic is being presented as the excuse for dusting off the no-election scenario again. With the coronavirus threat seen to persist next year, health safety protocols particularly physical distancing will be a challenge in activities related to election preparations, and people are saying they might not vote in 2022 – or at least this is the claim of the person who raised the no-el scenario.
Thankfully, the Commission on Elections immediately shot down the idea. In the first place, term limits are set by the Constitution, so Charter change is needed to postpone the elections and pave the way for a term extension. Cha-cha cannot be given priority in this ruinous, deadly pandemic.
Yesterday, Malacañang also thumbed down the no-el scenario, as raised by Pampanga Rep. Mikey Arroyo, who said the Palace had nothing to do with the idea.
The world is racing to produce a safe vaccine for COVID, with several countries seeing mass distribution by the end of this year. It might not happen as early as the period before the US elections in early November. Even the top disease expert in the US, however, sees a vaccine by November or December.
Even if governments give priority to their own compatriots, starting with the pandemic frontliners, the global coverage of COVID immunization is expected to be achieved with unprecedented speed, considering the urgency of the demand.
By the time the period for the filing of certificates of candidacy rolls around next year, the situation is expected to have significantly stabilized enough to allow the safe implementation of election-related activities. Comelec officials said if pandemic problems persist until May 2022, the vote might be held over two or three days.
The no-el idea may persist as politicians imagine ways of holding on to their positions beyond the limit set by the Constitution. Instead of wasting time on this issue, they should concentrate on ensuring that the 2022 general elections will proceed smoothly amid the challenges arising from the pandemic.