EDITORIAL - Vanguard of opaqueness
September 17, 2020 | 12:00am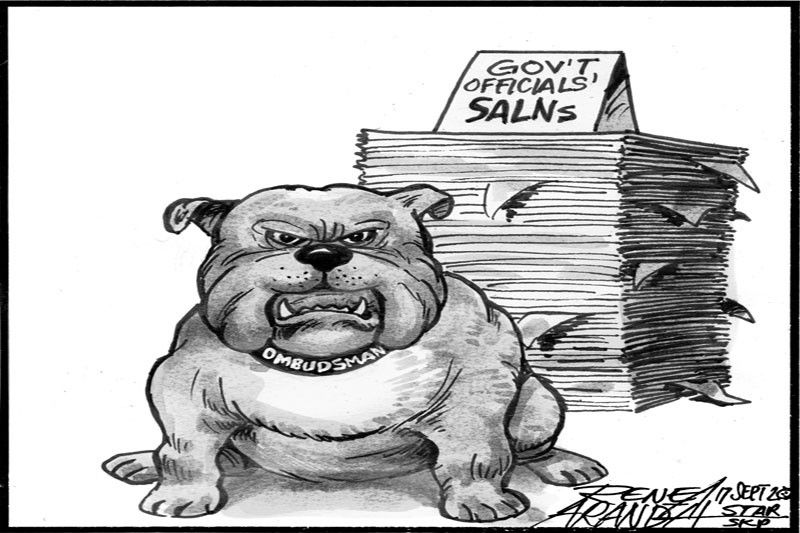 The Office of the Ombudsman is supposed to be the vanguard in the fight against corruption. So why is it looking instead like the vanguard of opaqueness in public service?
This question has been raised after the ombudsman restricted media and public access to the statements of assets, liabilities and net worth of the president, vice president and other top government officials. Henceforth, any request for copies of SALNs from the Office of the Ombudsman would require the consent of the owner of the asset declaration.
Two chief justices have been ousted partly because of problems involving their SALNs. Ombudsman Samuel Martires was among the eight Supreme Court justices who voted for the ouster of Maria Lourdes Sereno. The eight favored a quo warranto petition filed by Solicitor General Jose Calida, who argued that Sereno's appointment as chief magistrate was invalid because she violated SALN requirements.
For the country's main anti-corruption agency, the response to that unprecedented event should be the promotion of transparency in government. The Office of the Ombudsman should be leading the push for the enactment of a Freedom of Information Act, the easing of bank secrecy laws for certain questionable transactions, as well as the relaxation of rules governing access to the SALNs of public officials. Ombudsman Martires should even set the example by freely releasing his SALN to the media.
Instead the ombudsman is moving in the opposite direction, making it easier for public officials to conceal ill-gotten wealth. It has been said often enough: those who have nothing to hide have nothing to fear. Studies have estimated that the country is losing billions to corruption every year, with the problem now deeply entrenched partly because of the failure to catch, prosecute and punish crooked public officials. The move of the Office of the Ombudsman is a step backward in the battle against corruption.