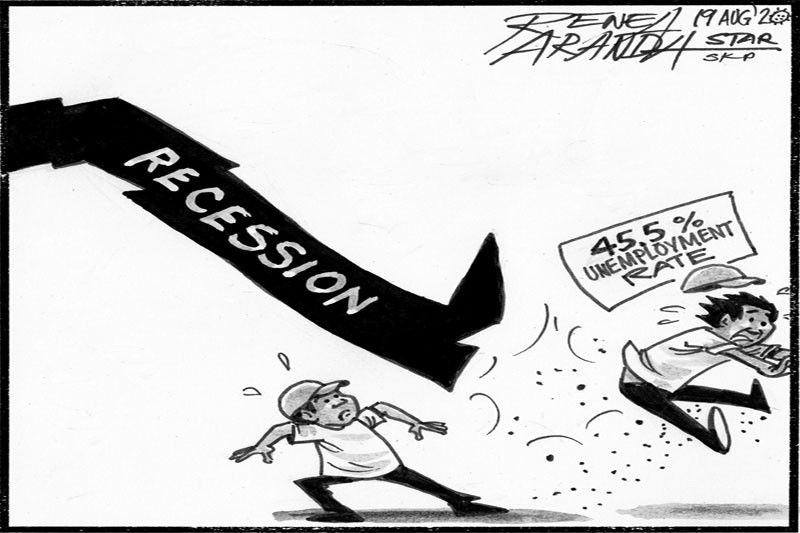 EDITORIAL - Record-high unemployment
(The Philippine Star) - August 19, 2020 - 12:00am
The survey indicates that adult joblessness in the country has hit a record-high 45.5 percent amid the coronavirus disease 2019 pandemic. That's approximately 27.3 million Filipinos reporting joblessness in the survey taken in July by pollster Social Weather Stations Inc.
Presidential spokesman Harry Roque had a sanguine assessment of the SWS survey results. Considering the deep economic contraction since the start of the COVID crisis, Roque said on Monday, "it could have been worse." With many businesses forced to close shop, he was heartened to see that less than half of adult Filipinos were jobless, indicating the "resilience" of the people, Roque said.
His statement has drawn flak, although he could be right: the situation could have been worse, considering the five-month disruption of economic activities to curb the spread of COVID.
The Department of Labor and Employment has a more modest assessment of the problem, reporting that over 160,000 workers nationwide lost their jobs for good from January to Aug. 17 due to retrenchments or company shutdowns. DOLE officials also said a more accurate gauge of unemployment is the survey conducted by the Philippine Statistics Authority, which placed the number of jobless workers at 7.43 million as of last April.
Nearly four months have passed since then, however, during which more businesses were forced to shut down, and hundreds of thousands of Filipinos working overseas have been repatriated after losing their jobs.
Regardless of the actual numbers, the 16.5 percent economic contraction in the second quarter can only mean soaring unemployment. Displaced workers need an immediate lifeline to tide them over while they seek new livelihood sources. Those interested will need credit access to start micro enterprises. And they need long-awaited structural reforms to improve the investment climate in the country, which will provide long-term meaningful jobs in the tortuous path to economic recovery. There is now stiff competition in the region for such investments. The Philippines must not be left out.