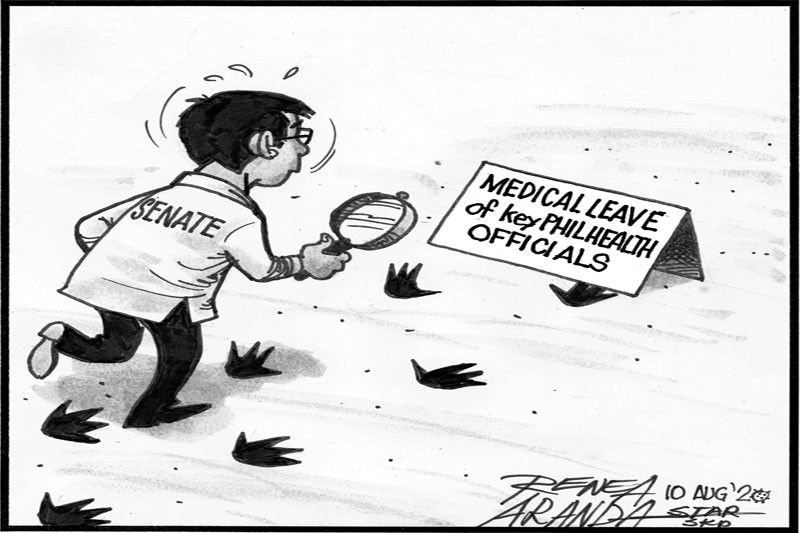 EDITORIAL - Full attention required
(The Philippine Star) - August 10, 2020 - 12:00am
With people openly suspecting that he is simply trying to avoid a congressional investigation, the embattled president and chief executive officer of the Philippine Health Insurance Corp. has promised to continue testifying in the Senate inquiry on anomalies in PhilHealth.
Ricardo Morales has brushed aside calls for his resignation as PhilHealth chief. But the Senate committee of the whole, which is investigating allegations of irregularities in the state health insurer, received a medical certificate dated Aug. 7, declaring that Morales needed six cycles of chemotherapy for Diffuse Large B-Cell lymphoma.
Medical websites say this is an aggressive type of cancer, and Morales needs to focus fully on his treatment. Chemotherapy in particular can be debilitating. Morales deserves people's prayers for his speedy recovery.
In the meantime, the country continues to battle a public health crisis that is also devastating the economy. PhilHealth plays a critical role in addressing this pandemic, and it needs the full attention of those tasked to administer billions in public health funds.
It's good to know that Morales is prepared to continue cooperating with the Senate in its probe. He has vehemently denied accusations of irregularities in PhilHealth under his watch, which started last year when he was tasked to deal with yet another scandal in the agency. The Presidential Anti-Corruption Commission has completed its report on the issue and recommended the dismissal or indictment of an initial 36 still unidentified PhilHealth officials.
This time, with more accusations being hurled against PhilHealth, notably by a resigned anti-fraud officer, President Duterte has found it necessary to form a task force that will look into all allegations of corruption in the agency. While facing these accusations, PhilHealth officials will have to concentrate on delivering the services that are badly needed by the public during the pandemic. PhilHealth needs an agency head who is not distracted by something as urgent as battling a serious illness.