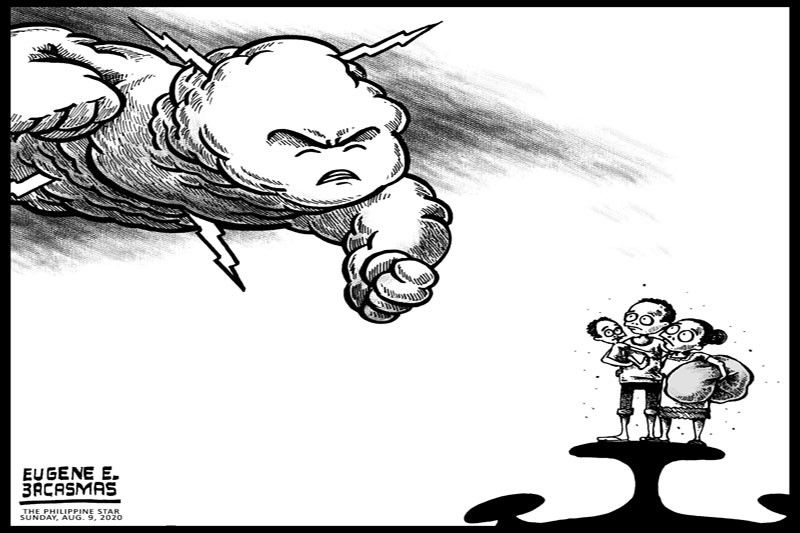 EDITORIAL - Calamities in the pandemic
(The Philippine Star) - August 9, 2020 - 12:00am
Even with the modified enhanced community quarantine, traffic crawled along several major thoroughfares in Metro Manila last Friday as a low-pressure area off Infanta, Quezon dumped heavy rain that spawned flooding.
The floods forced people in cramped neighborhoods to take shelter in common areas located on higher ground. In some informal settlements, children played in the downpour and the floodwaters, unmindful of health protocols to contain the spread of coronavirus disease 2019.
Weather experts said the low-pressure area would intensify into a tropical depression this weekend. It's the height of the rainy season, and the COVID-19 pandemic has made it more complicated to deal with the annual typhoons and destructive floods.
Local government units, still struggling to contain the spread of COVID, must now also prepare evacuation centers for the typhoons and floods. Such centers have always been inadequate, congested and lacking in the basic requirements for proper hygiene. In this pandemic, such conditions could quickly turn a village into a COVID hotspot. Local hospitals could become overwhelmed.
Amid the pandemic, facilities such as public school gyms and multipurpose halls that were used as evacuation centers in the past were turned into quarantine areas for COVID-19 cases. With the typhoon season upon us, local governments must identify or set up evacuation centers, meant for victims of typhoons and other natural calamities, that are located away from COVID quarantine facilities, and which will allow evacuees to observe minimum health protocols such as physical distancing and regular hand washing.
The rainy season is also the season for diseases caused by pathogens from dirty water such as the potentially deadly leptospirosis, and those borne by mosquitoes, such as dengue. Barangay officials must tighten the enforcement of rules restricting the mobility of children during the pandemic. Frolicking in a downpour and flood – a common sight pre-pandemic – can no longer be allowed.
The country is used to dealing with natural calamities. Officials know the protocols for preparedness, which cannot be ignored even as the battle against COVID-19 continues.