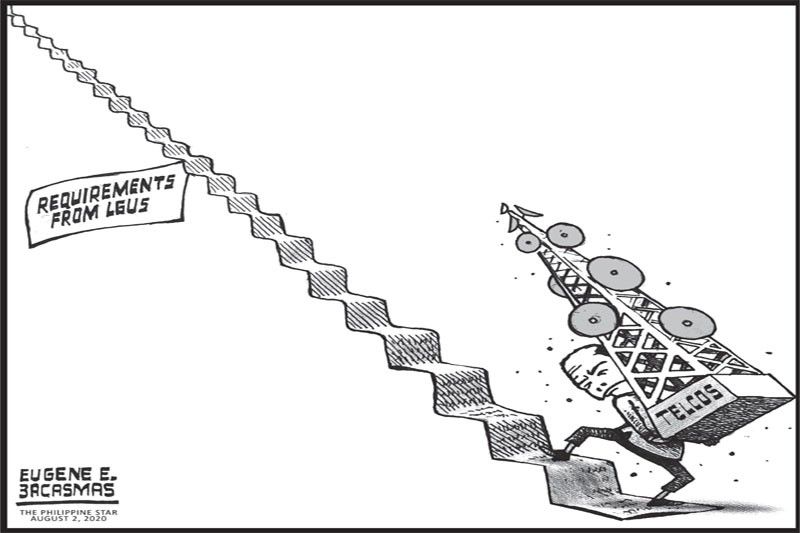 EDITORIAL - A clean line to Jesus
(The Philippine Star) - August 2, 2020 - 12:00am
From 25 to 30 permits just to set up one telecommunications tower, with the process taking an average of eight months. If 5,000 towers are needed, think of how many permits must be secured, and how long it would take.
Most of the permits must be obtained from local government units with jurisdiction over the intended tower sites. In addition, telecommunications companies are required to pay numerous miscellaneous fees by LGUs and other government agencies.
This situation was reported to President Duterte on Thursday by Ernest Cu, president and chief executive officer of Globe Telecom, one of the two telcos that the Chief Executive had warned of expropriation if they failed to improve their services sufficiently enough for him to be able to "call Jesus Christ in Bethlehem" before December this year.
It should be encouraging for the telcos to see the President interested in getting their side about what's keeping them from providing better services. After listening to Cu at Malacañang, the President summed up the problem, which the Globe executive did not express: "It's really corruption."
The President then directed the Department of the Interior and Local Government and other relevant agencies to deal with the problem, while at the same time urging telcos to identify those who are derailing the improvement of telecommunications service because of graft. Sen. Grace Poe issued a similar call in a separate meeting with telcos representatives.
The telcos have in fact been raising the problems for several years now, through several administrations. Apart from red tape and graft, they are left to deal with right-of-way issues and opposition from private homeowners' associations to have telco cellular sites near their communities. There is also the problem of peace and order, with New People's Army bandits bombing the towers and other telco facilities if they refuse to give in to NPA extortion.
With the pandemic now forcing the country to shift practically overnight to online transactions, and even formal education migrating to the digital realm, ramping up telecommunications capacity has become a matter of national urgency. Unless the long-standing hindrances to the effort are dealt with decisively, even expropriation will not produce that clean line to Jesus Christ in Bethlehem by this Christmas.