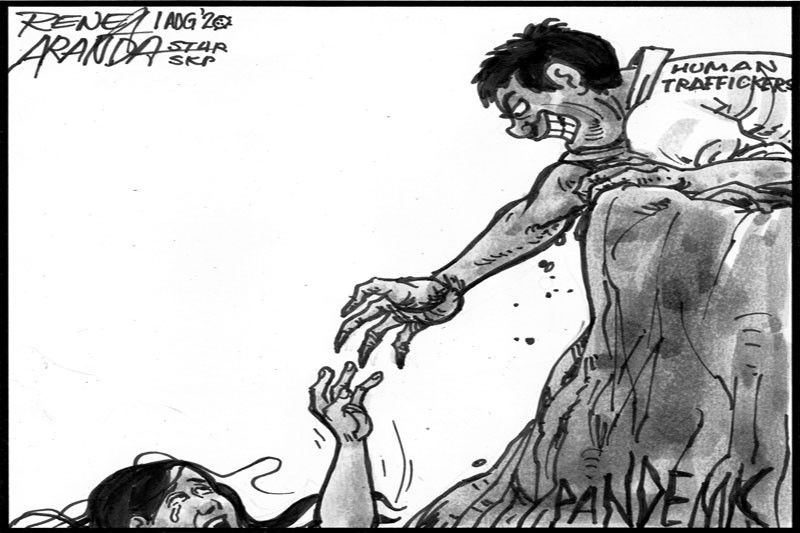 EDITORIAL - A boon to human traffickers
(The Philippine Star) - August 1, 2020 - 12:00am
While most businesses continue to reel from the impact of restrictions to curb coronavirus transmission, the pandemic has been a boon for those engaged in certain illegal activities.
As World Day Against Trafficking in Persons was marked on July 30, the United Nations noted that the COVID-19 crisis has made it more difficult to assist victims of sexual exploitation, illegal recruitment, forced labor and other forms of human trafficking.
The Philippines has maintained its Tier 1 ranking, for the fifth year in a row, in the 2019 Trafficking in Persons report of the US State Department, the Bureau of Immigration reported this week. The BI noted that 38,000 people believed to be victims of human trafficking were barred from leaving the Philippines in 2019. The Department of Justice, for its part, reported that despite quarantine restrictions, 33 persons accused of trafficking in persons were convicted in the first half of this year. In 2019, 76 convictions involving TIP cases were recorded.
Since 2005, there have been 560 convictions involving TIP cases in the Philippines, with cybersex trafficking accounting for 96 percent of the cases and the rest involving labor trafficking.
But with jobs and livelihoods lost during the pandemic, swelling the ranks of the impoverished, people also become more vulnerable to exploitation. The UN is marking the special day with a focus on the first responders to human trafficking, whose tasks have been made more complicated by the COVID pandemic. By UN estimates, there are about 30 million people in trafficking situations worldwide.
Trafficking offenses also include forced marriages, the sale of children, forced begging, the use of child soldiers, and forced removal of body organs. Online sexual exploitation of children has become easier during the pandemic as many transactions including education migrate to cyberspace. The first responders and victims alike will need help from various sectors and the community in general to stop the traffickers.