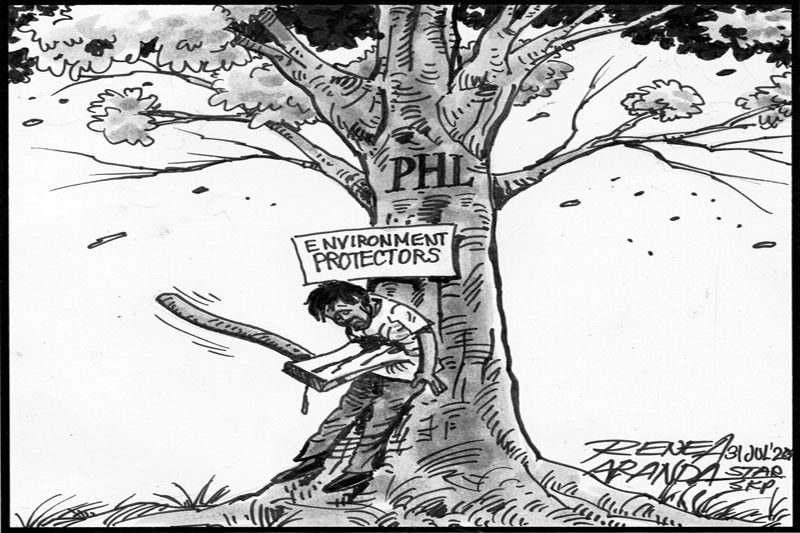 EDITORIAL - Deadliest in Asia
(The Philippine Star) - July 31, 2020 - 12:00am
Here's another dubious distinction no country wants: the Philippines is now the deadliest country in Asia, and the second in the world, for environmental defenders.
This is according to UK-based international watchdog Global Witness, which reported that worldwide, 212 land and environmental activists were murdered in 2019, with 43 of them slain in the Philippines.
The 43 is a jump from the 30 killings reported in the country in 2018, Global Witness noted. Only Colombia topped the Philippines, with 64 murders. The mining sector recorded the highest number of deaths, with 50 activists killed around the world in connection with their advocacies against the destructive impact of mineral extraction on the environment, people's land and livelihoods. Of the 50, the Philippines accounted for the highest number of deaths, with 16 fatalities. Among them was Manobo tribal leader Datu Kaylo Bontolan of Talaingod town in Davao del Norte.
Concerns have been raised over increased violence as the government reverses the mining moratorium imposed by the late Gina Lopez when she was environment secretary. President Duterte had said he shared her concerns on the destructive impact of mining on the environment, but today the government reportedly needs mining revenues to respond to the coronavirus pandemic. Industry players themselves should help see to it that no violence will mar the resumption of their operations.
Apart from destructive mining, the environmental warriors have battled agribusiness, oil and gas operations and other activities that aggravate climate change. Their concerns are best addressed through careful studies on balancing the needs of sustainable development and environmental protection. And they are best protected through the arrest and punishment of those responsible for harassment and murder.