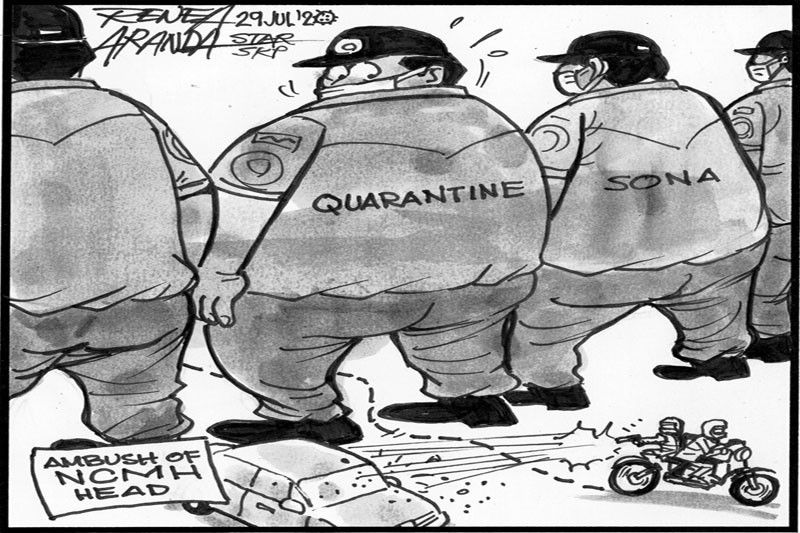 EDITORIAL - Brazen murders
(The Philippine Star) - July 29, 2020 - 12:00am
In this pandemic, even frontliners are not spared from murder. Three weeks after the chief inquest prosecutor of Manila was gunned down in a daring late morning ambush in Paco, the director of the National Center for Mental Health and his driver were shot dead shortly after leaving the NCMH chief's home in Quezon City last Monday.
Roland Cortez and NCMH driver Ernesto de la Cruz were in Cortez's car at around 7 a.m. when two men on a motorcycle approached at the corner of Casanova Drive and Tandang Sora Avenue in Barangay Culiat and opened fire. Cortez and De la Cruz died at the scene.
The attack followed the killing of Manila chief inquest prosecutor Jovencio Senados on July 7 along busy Quirino Highway in Paco at past 11 a.m. Gunmen in a black SUV fired at Senados. The National Union of People's Lawyers said Senados was the 50th legal professional to be murdered since the start of the Duterte administration.
The murder of Senados remains unsolved. As of yesterday, no one had been arrested in connection with the murders of Cortez and his driver. Police noted that last year, Cortez had filed charges of graft and malversation against an official of the NCMH for allegedly giving a company a monopoly of hospital projects, including the extension of a hospital pavilion at a cost of at least P80 million.
Obviously, only the arrest of the gunmen will uncover the truth. This can be difficult in this pandemic when everyone is required to wear a mask, making it easy to conceal the identities of evildoers even from surveillance cameras. Police, however, must confront this additional challenge and catch murderers, before impunity sets in and leads to other lethal attacks.