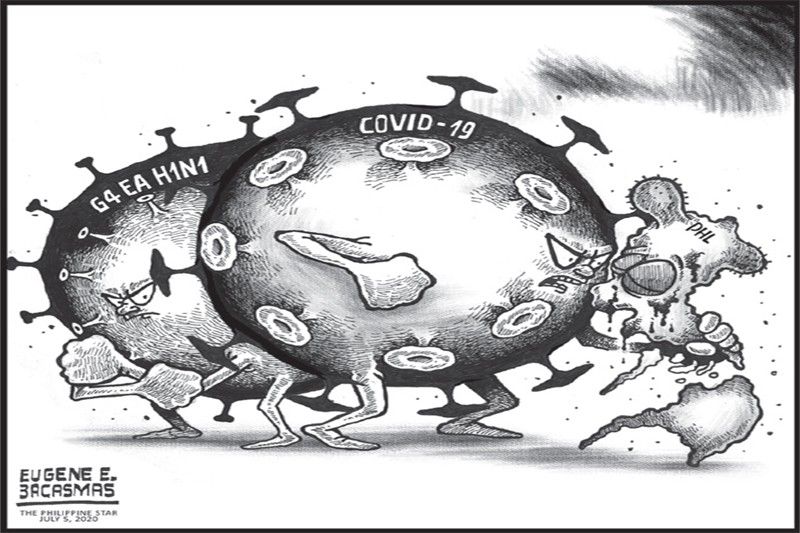 EDITORIAL - Another potential pandemic
(The Philippine Star) - July 5, 2020 - 12:00am
Even before the country can be completely free of African swine fever, a new type of virus has been detected in hogs in China. Scientists have warned that it has the potential to jump to humans and create another pandemic.
Called G4 EA H1N1, researchers say the virus is similar to the one that caused the swine flu outbreak in 2009. The H1N1 strain could multiply in the cells that line the human airways, like the SARS-coronavirus-2 that causes the killer coronavirus disease now raging around the planet.
Experts from China's Center for Disease Control and Prevention and several Chinese universities have warned that G4 has "all the essential hallmarks of being highly adapted to infect humans."
Even if the newest strain of swine influenza does not have adverse effects on human health, it could wreak further havoc on the Philippine hog industry, which continues to grapple with African swine fever.
Since the ASF outbreak last year, the Philippine government has banned the entry of pork and other meat products from China and other countries where swine flu cases have been reported. Amid recent reports of the emergence of G4, Customs authorities have been placed on alert for the illegal entry of pork from China.
Officials of the Department of Agriculture's Bureau of Animal Industry have said they are monitoring G4, which reportedly mutates and spreads rapidly. People presumably have learned their lessons from the ASF outbreak, when the careless disposal of diseased pig carcasses contaminated rivers and allowed the virus to spread rapidly, decimating many hog farms. Pork and pork products from ASF-hit countries were also able to enter the Philippines before the ban was imposed.
The hog industry not yet recovered from ASF, and the country is still struggling to contain the coronavirus disease 2019 pandemic. The last thing we need is another virus that not only further threatens the swine industry but also poses the possibility of jumping to humans. With quarantine protocols imposed for COVID-19, and with the experience from the ASF outbreak, the country should be able to do a better job of preventing the entry of the G4 virus.