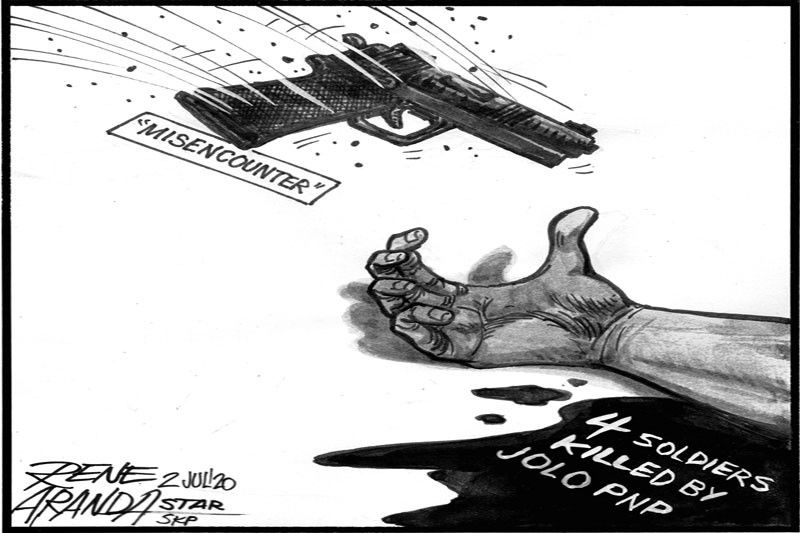 EDITORIAL - 'Misencounter'
(The Philippine Star) - July 2, 2020 - 12:00am
Two days after the deaths of four Army intelligence officers in Jolo, capital town of Sulu, the Philippine National Police backpedaled and admitted the killing did not result from a "misencounter" between the soldiers and PNP members.
Instead, top PNP officials admitted, there was no firefight and the Army soldiers were shot dead by the police team, for reasons that have yet to be established by investigators. Nine members of the police team have been relieved from their posts and disarmed, on orders of Interior and Local Government Secretary Eduardo Año, a former chief of the Armed Forces of the Philippines.
The AFP said the fatalities – Maj. Marvin Indamog who headed the Army's 9th Intelligence Service Unit, Capt. Irwin Managuelod, Sgt. Eric Velasco and Cpl. Abdal Asula – were reportedly tracking down suspected suicide bombers under Abu Sayyaf commander Mundi Sawadjaan when they were gunned down by members of the Jolo Municipal Police Station and Police Drug Enforcement Unit.
The Sulu police initially reported that the policemen had spotted a gray sport utility vehicle with the soldiers, who were armed and in plainclothes. The soldiers were ordered to proceed to the police station for identity verification. As they reached the police station, however, the soldiers allegedly fled in the SUV, prompting a chase. Police said that when they caught up with the SUV, the soldiers got out and pointed their guns at the pursuers, prompting the police to open fire.
The Army said the fatalities had coordinated their intelligence operations with the AFP's Joint Task Force Sulu and the Army's 11th Infantry Division. Next time, the Army might want to coordinate with the PNP, especially in Sulu, now the hotbed of Abu Sayyaf activities.
It is not the first fatal encounter between police and military units. In June 2018, six members of the PNP's Regional Mobile Force Battalion 8 were killed and nine others wounded in a "misencounter" with members of the Army's 87th Infantry Battalion in Sta. Rita, Samar. The AFP said the soldiers mistook the police, who were in uniform, for New People's Army rebels.
Such deaths of state forces from friendly fire can only be applauded by the NPA, the Abu Sayyaf and other violent threat groups. While turf wars among security agencies are not new, the lack of coordination can prove fatal for those who are supposed to be pursuing the same objectives and fighting the same enemies. Those killed deserve the truth and justice, as well as efforts on the part of both the AFP and PNP to prevent more "misencounters."