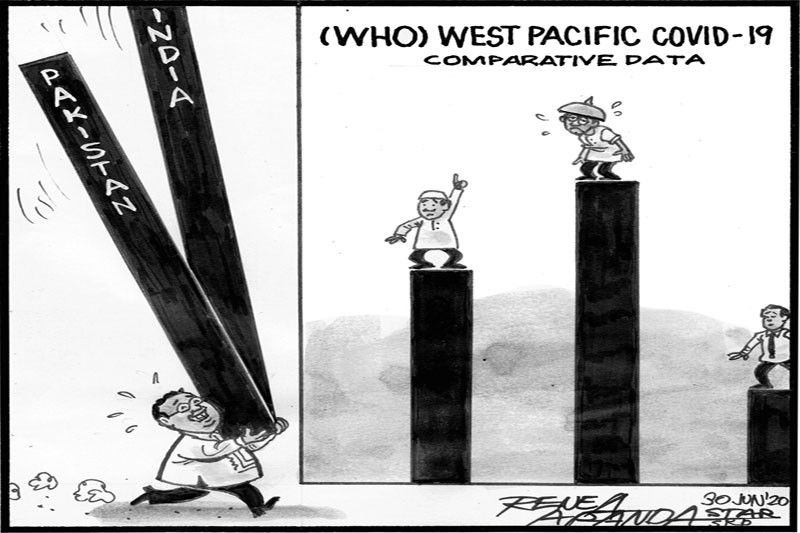 EDITORIAL - Fine-tune the response
(The Philippine Star) - June 30, 2020 - 12:00am
No one is perfect, and the Duterte administration is doing its best to address the challenges posed by the coronavirus disease 2019 pandemic. This was Malacañang's reaction yesterday to the World Health Organization's report that the Philippines is registering the fastest increase in COVID-19 cases among 22 countries in the Western Pacific region.
The Department of Health had earlier urged the WHO not to "cherry pick" countries for comparison in the region, as it balked at the Philippines being rated worse than Singapore in the number of new COVID infections from June 16 to June 27.
Aside from disputing the WHO assessment, the government should see it as an additional challenge to ramp up capabilities for containing COVID-19. The WHO was not criticizing any country but merely reporting the status of the pandemic in the region.
Those criticizing the response of the Duterte administration are mainly in the Philippines. They say that the government has failed to maximize the three-month quarantine, which has ruined the economy and worsened poverty, to sufficiently increase capabilities for contact tracing, isolation and mass testing using the real-time reverse transcription–polymerase chain reaction test. Local government officials outside the National Capital Region are complaining about the recent spread of COVID in their areas because of the poorly coordinated return of locally stranded individuals and repatriated overseas workers from the NCR.
As of 4 p.m. yesterday, the DOH Bulletin No. 107 showed 36,438 COVID infections nationwide, with 985 confirmed cases added – 643 of them fresh cases and 342 late. The death toll rose to 1,255 with the addition of 11 fatalities. Recoveries, meanwhile, reached 9,956 with 270 reported.
An expert warned that COVID cases could hit 60,000 by July 31 amid the surge in Cebu City, which prompted the national government to revert the city to enhanced community quarantine. The contagion may be slowing down in Metro Manila, the epicenter of the pandemic in the country, but it appears to be on the rise in parts of the Visayas.
Around the world, protecting public health and reviving the economy is a difficult balancing act. There are places that have done better than most and can serve as models in containing COVID-19, among them Hong Kong, Taiwan and Vietnam. The latest WHO assessment should lead to fine-tuning of the Philippine response.